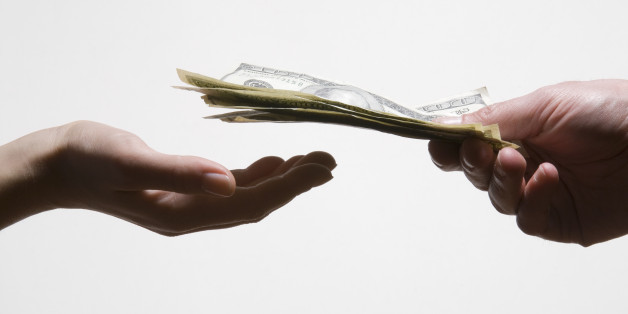 Most Americans favor a hike in the minimum wage. Californians like Jerry Brown, but many say they're ready for a change. And forget the polls...it's time to unskew the cartograms. This is HuffPollster for Monday, November 11, 2013.
MOST AMERICANS SUPPORT MINIMUM WAGE INCREASE - Andrew Dugan: "With momentum building at the federal and state level to increase hourly base pay, more than three-quarters of Americans (76%) say they would vote for raising the minimum wage to $9 per hour (it is currently $7.25) in a hypothetical national referendum, a five-percentage-point increase since March. About one-fifth (22%) would vote against this….A law that would raise the minimum wage to $9 an hour with automatic increases tied to the inflation rate is only slightly less popular, with 69% saying they would vote for it, and 28% against it. The amendment New Jersey voters passed does link the wage to inflation, but many legislative bills have not done that…. Republicans are the least supportive of hiking the minimum wage to $9 but not tethering it to inflation, with 58% saying they would vote in favor and 39% against it. By comparison, 91% of Democrats and 76% of independents would favor it." [Gallup]
CALIFORNIA'S GOVERNOR WELL-LIKED, BUT MAYBE NOT FOR REELECTION - Anthony York: " Jerry Brown may be the state's longest-serving governor, with a political resume that spans six decades, but California voters are ambivalent about the 75-year-old Democrat. More than half of those surveyed in a new USC Dornsife/Los Angeles Times poll say they approve of the job Brown is doing as governor — the highest rating since he retook the governor's office in 2011. Yet only 32% say they are inclined to vote for Brown if he seeks an unprecedented fourth term as California's chief executive next year. Moreover, respondents give Brown little credit for what is widely considered as his signature achievement since returning to the governor's office in 2011 — erasing a $26 billion state deficit. Only 38% say they approve of the way Brown has handled the issue; 47% disapprove." [LA Times]
COHN: 'HOW SHOULD WE READ PPP'S POLLS?' - Nate Cohn, who has written at length about methods employed by the Democratic automated polling firm Public Policy Polling (PPP) that make it "difficult to distinguish the preferences of its sample from PPP's assumptions about the outcome of the election," offers his bottom line advice about how to read their polls: "If PPP puts out a survey showing a close race, it's pretty likely that the race is relatively close. And conversely, if PPP puts out a survey showing a blowout, the race is probably a blowout. So what's the solution? Treat PPP like a relatively inaccurate pollster. Like Rasmussen, PPP's numbers aren't irrelevant: if they show a 20 point lead somewhere, the race probably isn't close; if they show a close race, the contest might be competitive. But when it comes to the details, the result is mainly a reflection of PPP's assumptions." [TNR]
Include in polling averages? - RealClearPolitics'Sean Trende: "The real problem with the @ppppolls controversy isn't PPP. It's that what they do probably isn't unusual... In an odd sort of way, @ppppolls is to be commended for making data available so ppl can figure out what they are doing, warts and all...And this is an example of why you want to follow polling aggregations. Assumptions will tend to cancel each other out." [@SeanTrende here, here and here]
WHEN COUNTY MAPS MISLEAD - Slate's David Weigel passes along what he describes as "the most fun explanation" for Democrat Terry McAuliffe's defeat of Republican Ken Cuccinelli in Virginia: "[It] comes from Steve Jalsevac, a co-founder of the anti-abortion LifeSite News. Jalsevac shows readers a picture of the state's election map, and asks them if they want to live in such a crazy word." [Slate]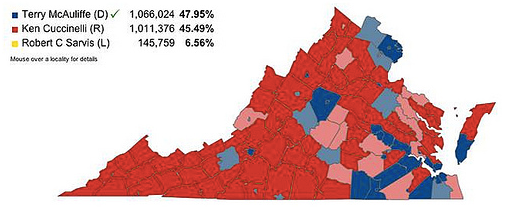 What does the map seem to say? - Jalsevac: "All the solid red areas voted a majority for Cuccinelli. The small dark blue ares went Terry McAuliffe (Yes, I know those are the most densely populated areas of Virginia). The rest were mixed. Notice that the map seems to be almost solid red. And yet, Ken Cuccinelli somehow very narrowly lost to his Democrat opponent. To me, something smells about all this and I suspect Ken Cuccinelli actually won Virginia, but certain things happened to ensure that that would not be the official result." [Lifesitenews]
Solution? The cartogram - Nate Cohn: "In fairness to those Virginia conservatives, this is a common issue. A couple of months ago, a map of AIDS in the United States went viral with the accompanying statistic that 92 percent of AIDS cases occur in 25 percent of counties...Fortunately, there's a solution: the cartogram, where the area of spaces on a map is determined by a variable other than geographic area. In this case, it's population: Make the most populous counties proportionately larger than the least populous counties." Cohn shared the following cartogram of the 2012 presidential election results in Virginia. [New Republic]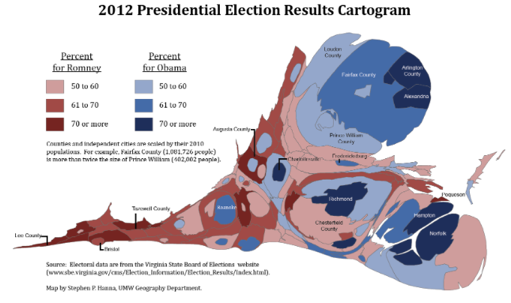 Cartogram for Virginia 2013 - Blogger Wyeth Ruthven passed along a cartogram of the 2013 results in Virginia created by Prof. Larry Sabato's Crystal Ball and the University of Virginia Center for Politics. [@Wyethwire, Crystal Ball]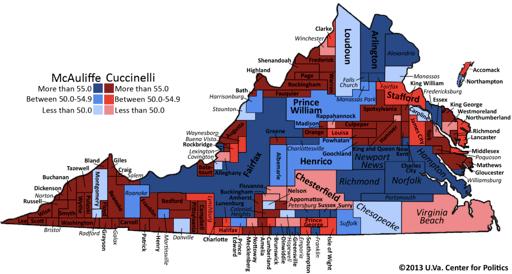 HUFFPOLLSTER VIA EMAIL! - You can receive this daily update every weekday via email! Just enter your email address in the box on the upper right corner of this page, and click "sign up." That's all there is to it (and you can unsubscribe anytime).
MONDAY'S 'OUTLIERS' - Links to more news at the intersection of polling, politics and political data:
-61 percent of post 9/11 veterans say their military experience was relevant to their most recent civilian job. [Pew Research's Fact Tank]
-One in ten veterans lacks health insurance. [WaPost's Wonkblog]
-Stu Rothenberg is unconvinced by most Virginia election postmortems. [Roll Call]
-Liz Halloran argues Ken Cuccinelli's loss isn't a referendum on abortion. [NPR]
-A plurality of Americans say they prefer a male boss. [Gallup]
-Luke Frans (R) reviews survey data on self-insured voters. [Resurgent Republic]
-Harry Enten describes Hillary Clinton as "the most formidable presidential nomination frontrunner for a non-incumbent in the modern era." [Guardian]
-Americans are unforgiving of most illegal transgressions by politicians. [YouGov]
-Cindy Kam and Liz Zechmeister describe experiments that how how bumper stickers and yard signs boost perceptions of viability for candidates in low-information races. [AJPS via @BrendanNyhan]
-Bob Ryan considers the usefulness of "forecast confidence" in TV weather predictions. [WaPost's Capital Weather Gang]
-MSNBC has some difficulty with Obama's approval rating. [HuffPost]
-"Not sure. I'm one of those 'not sure' people in polls." [The Onion]