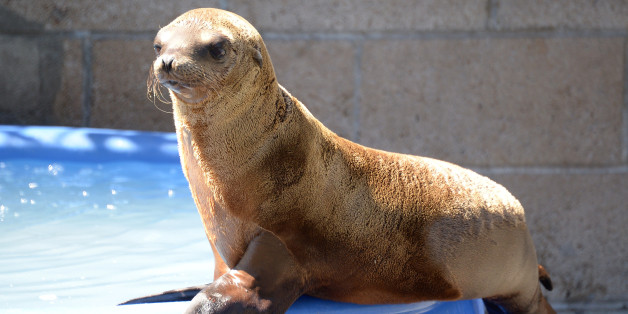 Authorities at the Santa Barbara Marine Mammal Center are investigating the disturbing case of a sea lion suffering from a bullet wound.
Nezzie is a juvenile male California sea lion who was rescued from Coal Oil Point in Santa Barbara County last month and brought to the center's headquarters in San Francisco. An infected wound and x-rays showed that he had been shot in the back, fracturing one of his vertebrae and dislocating a rib.
"It is too early to state a realistic prognosis for Nezzie, but at least in our care, he has a chance," the center reported.
The bullet is still lodged in the sea lion, and removal will be a complicated process given the infection.
"The Center's veterinarians estimate that he had probably been suffering with this wound for as long as two weeks," the report said. "This weakened him, affecting his ability to hunt for food and causing considerable weight loss."
Shooting, harassing, injuring or killing sea lions is in violation of the Marine mammal Protection Act of 1972 and is punishable by fines of up to $10,000. However, cases like Nezzie's are not unfamiliar to the team.
"He is one of many sea lions that we have treated for gunshot wounds in recent years," the center said. "Such shocking cases push us to raise awareness about this cruel, inhumane and illegal behavior toward marine mammals."
In August, the Marine Mammal Center treated Whirlybird, a sea lion who was blinded by a gunshot wound to the face.
Mysterious sea lion shootings have also been noted in Malibu, Calif. since August, where officials have linked the troubling phenomenon to squid fishing season.
Another case of 20 sea lions found shot near the Oregon-Washington border had authorities suspicious that frustrated fishermen were killing them off to lessen competition for their catch.
See photos of Whirlybird's recovery in the slideshow below:

BEFORE YOU GO
PHOTO GALLERY
Whirlybird's Recovery