Even as President Obama and other Americans remember the service of veterans on Monday, the reality is that, in many ways, the U.S. economy has already forgotten them.
The jobless rate for veterans who fought in post-9/11 wars is 10 percent, nearly three points higher than the jobless rate overall, according to the Bureau of Labor Statistics. The relatively young age of post-9/11 servicemembers may be one reason they're more likely to be unemployed -- the recession and recovery have hit America's youth especially hard. But there are other reasons they're struggling.
Nearly 3 in 10 Gulf War II-era veterans report having a service-related disability, according to the BLS. And while returning servicemembers have many skills applicable to civilian jobs, it can be difficult to translate them successfully without the necessary experience and certifications to work for civilian companies. A two-year-old federal program that encourages businesses to hire veterans is set to expire at the end of this year, according to CNN.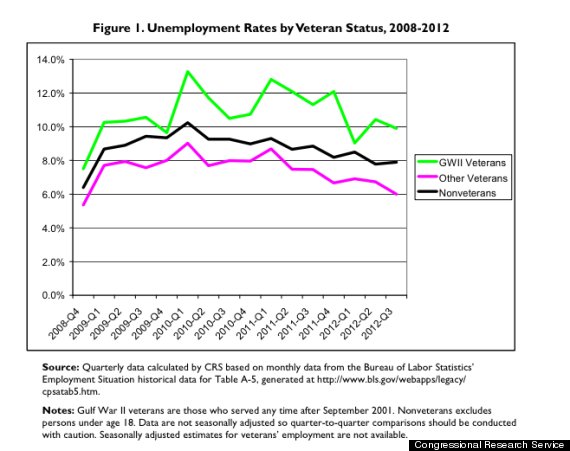 The difficulty veterans face transitioning into the job market means that they often struggle in other ways. College-educated veterans who have recently left the military make $10,000 less per year on average than their civilian counterparts, according to the Center for American Progress, a left-leaning think tank. About 900,000 veterans rely on food stamps each month, on average.
Veterans also make up 13 percent of the nation's homeless population. The number of homeless veterans has declined in recent years, thanks in part to public-private partnerships aimed at addressing the issue, but tens of thousands are still living on the streets.
BEFORE YOU GO
PHOTO GALLERY
10 Best Employers Of American Veterans