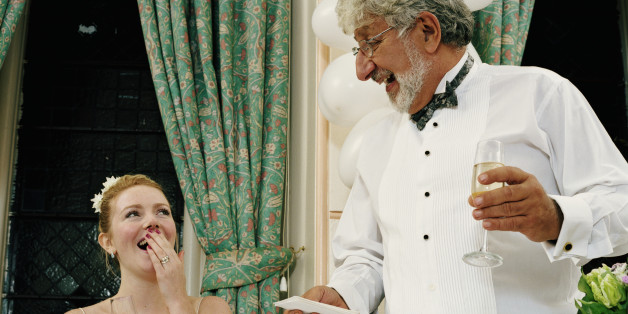 The rules of wedding etiquette are constantly changing, making it difficult for modern brides, grooms and guests to find up-to-date and correct information. But here at HuffPost Weddings, we're all about making your life easier. That's why we've launched #MannersMondays, a weekly series in which we ask our followers on Twitter and Facebook to submit their most burning etiquette-related questions. Then, with the help of our team of etiquette experts, we get you the right answers to your biggest Big Day dilemmas. You can send yours via Facebook or tweet it to us @HuffPostWedding with the hashtag #MannersMondays. Check out this week's question below!
Xochitl Gonzalez -- etiquette expert, wedding planner and HuffPost Weddings blogger -- is here to tell us how to handle this delicate matter without hurting your loved ones' feelings. Find out what she had to say below:
Gauche? No. Potentially problematic? Yes. Frankly, it sounds like the bride has more issues with her side of the family than with "flow", since two of her relatives are getting cut from the roster. But since I only have 140 characters of the story, I'll keep it simple. The only truly "traditional" toasts are from the best man and from the "host" of the evening, assuming that someone other than the bride and groom paid for the wedding and are acting as "hosts". If the father of the bride is paying the bills, he's got the right to the mic, no matter how boring it may be and the bride should be wary about offending him. Too many toasts are a buzzkill, but they do offer some of the more touching moments of a wedding celebration as well. Consider allowing an open mic at the rehearsal dinner so that you can hear the fantastic sentiments your sister, close family and friends have to share without taking up valuable reception time.
Below, check out our readers' tips on how to stress less and still give an awesome wedding toast.
PHOTO GALLERY
Stress-Free Wedding Toast Tips
Keep in touch! Check out HuffPost Weddings on Facebook, Twitter and Pinterest.