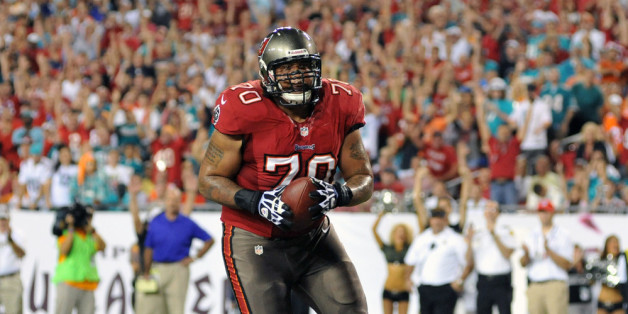 Looking for their first win of the 2013 season, the Tampa Bay Buccaneers dug deep into the playbook. They dug deep enough to find the rare play that intentionally results in the fabled "fat guy touchdown."
With the ball on the Dolphins' 1-yard line, offensive tackle Donald Penn reported as an eligible receiver. After feigning a block when the ball was snapped, the 6' 5" 340-pound lineman drifted away from the line into an open space in the end zone. Tampa quarterback Mike Glennon faked a handoff to Brian Leonard and then floated a short pass to his ample target in the end zone.
Fat guy touchdown!
Perhaps the only thing more impressive than the reception was the celebration. After securing his second career touchdown, Penn showed surprising hops as he leapt to dunk the ball through the goal posts.
GIF: Donald Penn's Celebration, Forever
(GIF via @WorldOfIsaac)
BEFORE YOU GO
PHOTO GALLERY
PHOTOS: Bucs vs. Dolphins