 An early 2016 horse race poll is a good time to remember the limitations of early polling. New surveys confirm further declines in approval for both Obama and Congress. And the only polls to date on closely watched 2014 Senate contest are from partisans. This is HuffPollster for Tuesday, November 12, 2013.
CLINTON LEADS CHRISTIE IN A VERY EARLY TRIAL HEAT... - HuffPollster: "New Jersey Gov. Chris Christie (R) won reelection in a landslide last week, but he'd face a tougher challenge in the 2016 presidential race, according to an NBC News poll released Tuesday. The next presidential election, of course, is still three years away, and there are plenty of reasons to be skeptical of early polls. But the results give a sense of how Christie might fare as a national figure. The poll found the GOP is nearly split between Christie supporters and detractors. Asked specifically whether they'd prefer to vote for Christie or another primary candidate, 32 percent of Republicans and Republican leaners chose Christie, while 31 percent opted for someone else….In a general election matchup against Clinton, Christie polled 10 points behind, taking 34 percent to her 44 percent, according to NBC." [HuffPost]
...but there's a problem with early trial heat results - Matt Berman: "It's late fall, three years out from an up-for-grabs presidential election. And the big news is that Sen. Hillary Rodham Clinton of New York is edging out Secretary of State Condoleezza Rice in a 2008 presidential matchup. Clinton is even crushing her Democratic opposition, with 41 percent support compared with 17 percent for Sen. John Kerry and 14 percent for former Sen. John Edwards. Which is great news for Hillary! Except that, according to the Marist poll, the former first lady is still down by 7 percentage points to the Republican front-runner, former New York City Mayor Rudy Giuliani. Of course, none of these people became president. Giuliani's campaign completely imploded (RIP the Florida Gambit). Rice never ran. And the eventual winner of the 2008 Democratic primary and the 2008 presidential election, Barack Obama, wasn't even being floated in the polls. All of this is to say, please just tune out the early 2016 prognosticating." [National Journal]
'Not very predictive' - Steve Koczela: "Reality check. We are still 15 months away from what we used to call 'early poll readings' for 2016." Koczela linked to a Pew Research report from 2007: "It's not just the case that polling in the nominating contests is perilous. Polls that test hypothetical general election matchups at this stage in the cycle are mostly wrong about who will win the White House. Early polling does provide a benchmark for charting trends in voter sentiment, but it probably won't be very predictive of the eventual outcome."
[@SKoczela, Pew Research]
One more blast from the past: sampling too broadly - Berman kindly linked to something we wrote about a "bigger problem" faced by those early 2008 polls: "The population of voters typically sampled by these early trial heat questions (the sample 'frame') bears little resemblance to the relatively small slice of actual primary voters that will ultimately decide the 2008 nominations. " We noted that one widely cited poll had reported results for a subgroup of Democrats that amounted to at least 40 percent of U.S. adults, despite the fact that actual Democratic primary electorates are typically between 10 and 15 percent of adults. "In other words, the horse race questions you are seeing on the 2008 race for the White House are sampling segments of the population that are three to four times larger than the electorates that will actually decide each nomination." [Mystery Pollster]
ANOTHER POLL FINDS NEW LOW FOR OBAMA APPROVAL - Quinnipiac: "American voters disapprove 54 - 39 percent of the job President Barack Obama is doing, his lowest approval rating in any Quinnipiac University national poll since he became president, as even women disapprove 51 - 40 percent, according to a national poll released today….For the first time today, American voters say 52 - 44 percent that Obama is not honest and trustworthy. His previous lowest marks on honesty were May 30, when 49 percent of voters said he was honest and 47 percent said he wasn't." [Quinnipiac]
Confirms previous polls - The Quinnipiac survey is just the latest of several to show Obama's ratings declining in the past few weeks. A Pew Research survey found Obama's approval rating at 41 percent, with record low ratings on the economy and health care. An NBC/Wall Street Journal poll put his overall rating at a record low 42 percent, due to what the pollsters described as "the accumulation of setbacks since the summer." HuffPost Pollster's average, including all publicly available polling, puts his approval at just under 43 percent. [Pollster]
AND ANOTHER 'RECORD LOW' FOR CONGRESS - Frank Newport: "Americans' approval of the way Congress is handling its job has dropped to 9%, the lowest in Gallup's 39-year history of asking the question. The previous low point was 10%, registered twice in 2012...Although the shutdown is now history, Americans' views of Congress have not recovered, but instead have edged lower. By contrast, Americans' confidence in the economy has begun to improve in the last several weeks. The continuing depression in Americans' views of Congress has occurred even though the troubles with the rollout of President Barack Obama's signature Affordable Care Act are now dominating U.S. political news. [Gallup]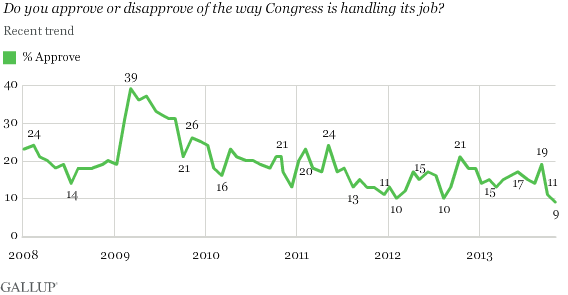 -Nick Gourevitch (D): "Congressional approval needs to hit 0% already so we can stop with the 'Congressional Approval Sinks to Record Low'" @GallupNews headlines" [@NickGourevitch]
PARTISAN POLLING STILL DOMINATES KENTUCKY SENATE RACE - HuffPollster: "Senate Minority Leader Mitch McConnell (R-Ky.) and Kentucky Secretary of State Alison Lundergan Grimes (D) are running neck and neck in the 2014 Senate race, according to a new poll from the liberal group MoveOn.org. The survey, conducted by the Democratic firm Lake Research for MoveOn, found McConnell and Grimes each attracting 37 percent of likely Kentucky voters in the general election. Publicly released partisan-sponsored polls typically produce slightly better results for their clients than do polls with independent sponsorship. A study of publicly released horse race surveys between 2000 and 2002 found that 'polls identified as partisan tended to skew in favor their sponsor about 3 percentage points and against their opponent by roughly the same amount.' While a number of surveys have been conducted this year on the Senate race in Kentucky, all have been by partisan firms or sponsors." [HuffPost, HuffPollster chart]]
HUFFPOLLSTER VIA EMAIL! - You can receive this daily update every weekday via email! Just enter your email address in the box on the upper right corner of this page, and click "sign up." That's all there is to it (and you can unsubscribe anytime).
TUESDAY'S 'OUTLIERS' - Links to more news at the intersection of polling, politics and political data:
-Americans' economic confidence has slowly increased in the four weeks following the government shutdown. [Gallup]
-Most Americans see obesity as a problem, but they divide on whether government should play a role in reducing it. [Pew Research]
-Republicans trust Fox for health care news. [YouGov]
-Sean Trende argues than in Virginia, shifting preferences within groups "mattered more than demographic shifts." [RCP]
-Domenico Montenaro responds to Stu Rothenberg on the role of black voters in Virginia. [NBC]
-PPP (D) finds Sen. Kay Hagan losing ground in North Carolina, and Maine's Mike Michaud seeing little effect from his announcement that he's gay. [PPP North Carolina, Maine]
-ABC News reports on how Twitter crowdsourcing helped bring to light discrepancies in the Virginia vote count. [ABC]
-Global Strategy Group (D) releases a national survey checking on attitudes in the wake of the government shutdown. [GSG]
-McLaughlin & Associates (R) release a post election poll in Virginia. [McLaughlin]
-Polling featured in NYC subway advertising copy. [@DanaBlanton_NYC]
BEFORE YOU GO
PHOTO GALLERY
Presidents On Inauguration Day