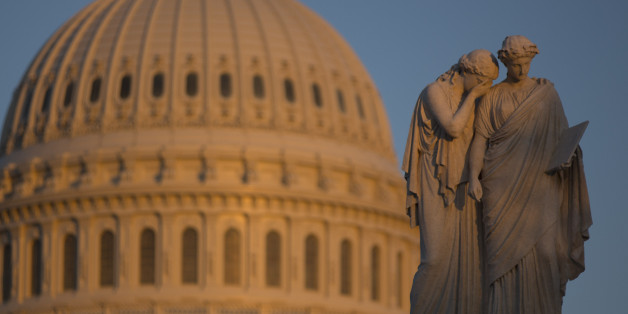 WASHINGTON -- Federal workers are increasingly disenchanted with their jobs and frustrated by their stagnant pay and shrinking resources, according to new survey results from the Office of Personnel Management.
What's more, the survey of 376,577 workers was performed before the recent government shutdown.
In a preface to the survey results, which were released on Friday, OPM Director Katherine Archuleta said the budget squabbles in Washington ultimately threaten the government's ability to find and hold on to quality workers. She expressed dismay at the fact that fewer government employees said they would recommend their agencies as good places to work.
"The survey results serve as an important warning about the long-term consequences of the sequestration and budget uncertainty," Archuleta wrote. "Without a more predictable and responsible budget situation, we risk losing our most talented employees, as well as hurting our ability to recruit top talent for the future."
The automatic budget cuts known as sequestration have squeezed federal agencies across the board, leading to unpaid furlough days for workers and less funding to get their jobs done. Meanwhile, the now-frequent budget showdowns on Capitol Hill have frayed the primary allure of government work: job stability. Last month, roughly 800,000 federal workers were sent home for two weeks after Congress failed to fund the government, although they were ultimately paid retroactively for the time they missed.
Archuleta wrote that workers' evaluations of their jobs revealed a "significant" drop in employee satisfaction, continuing a tumble that began in the 2012 survey results. Along with the growing disgruntlement over pay, more employees were likely to say they didn't have the resources necessary to do their jobs.
Among the key findings:
Sixty-five percent of workers surveyed said they were satisfied with their jobs overall, down from 68 percent in 2012.
Fifty-four percent said they were satisfied with their pay, down from 59 percent in 2012.
Sixty-three percent said they would recommend their organization as a place to work, down from 67 percent in 2012.
The large agencies with the highest levels of employee satisfaction were the National Aeronautics and Space Administration, the Nuclear Regulatory Commission and the Federal Communications Commission.
Workers this year were less likely to say they were rewarded for innovation.
Workers this year were also less likely to say pay raises were the result of good work.
Federal workers have been under a pay freeze for roughly three years. While some workers have continued to receive pay bumps through so-called "step" increases, many workers haven't seen their salaries rise at all with the cost of living. The bill that President Obama signed to reopen the federal government in October would lead to a 1-percent, across-the-board raise, unless Congress passes legislation blocking it.
OPM's survey results are consistent with what federal workers have told The Huffington Post throughout sequestration and the government shutdown. A number of them said last month that they were actively looking for private-sector work and wouldn't encourage friends to go into civil service.
"I would never recommend working for the federal government right now, if anyone asked me. You don't know one day to the next what's going to be happening with your job," Jenny Brown, a tax examiner in Utah with the Internal Revenue Service, told HuffPost.
Nonetheless, OPM said in its conclusion to the survey results that "the Federal workforce is strong and resolute in their belief that the work they do is important." And on another bright note: "what is most positive is that overall results have not declined precipitously."
BEFORE YOU GO
PHOTO GALLERY
Michigan Protests Right To Work