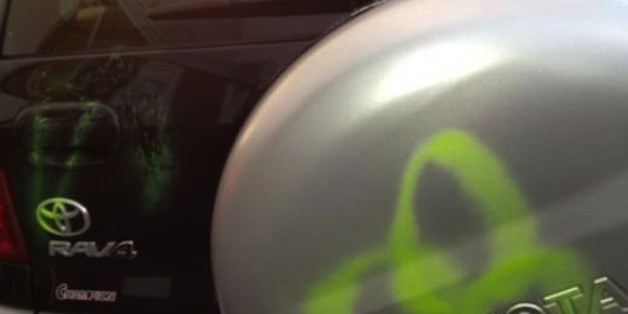 A largely Jewish fraternity at Penn State University was targeted with anti-Semitic, explicit vandalism in recent days, the Associated Press reports.
Twelve cars parked behind the Delta Sigma Phi and Beta Sigma Beta fraternity houses were spray painted Thursday night or Friday morning, according to the Centre Daily. Police believed the anti-Semitic messages, sexual pictures and phrases and swastikas were directed at Beta Sigma Beta, a mostly Jewish house.
A group of senior administrators -- President Rod Erickson, Provost Nick Jones, Vice President for Sutdent Affairs Damon Sims and Vice Provost for Educational Equity Terrell Jones -- issued a campuswide letter Tuesday commenting on the bias incident:
It goes without saying, but saying it is important all the same. The recent hateful and offensive anti-Semitic vandalism directed toward Beta Sigma Beta fraternity is unacceptable in our community and should be unacceptable anywhere. Hateful behavior that feeds anxiety and division among us simply must not stand.

We are confident that the local police and University administrators responsible for investigating this matter will continue to do all they can to discover the individuals responsible. Appropriate and effective accountability is our hope. But while we await that outcome, there are things all of us can do.
Police are offering a $1,000 reward for information leading to the arrest of the vandals.