For Todd Ray, it was a snap decision to own a two-headed snapping turtle. Keeping both heads happy, healthy and content isn't easy.
Ray owns the world's largest collection of two-headed animals, which he showcases at the Venice Beach Freakshow in Los Angeles.
Recently, he added the two-headed snapping turtle to his multi-headed menagerie, naming one head "Thor" and the other "Loki." He said they're fitting names, considering the animosity that snapping turtles generally feel toward one other is similar to the antipathy experienced by the two Norse gods.
"I hope they can make it [to adulthood]," Ray told The Huffington Post. "These are vicious animals. I had a two-headed snapping turtle in the past and the two heads hated each other. These creatures are not normally around others."
So far, they may not be too fond of their caretaker. The video above shows them trying to bite him as he cleans them with a Q-tip.
"Ah! Thought he was going to get me," he said, when one of the turtle heads snapped at him. "Look at him try to get me from behind."
If Ray can keep the turtles from literally snapping each other's heads off, he said the two-headed reptile could eventually weigh 150 pounds.
"That would be something," he said. "They'd look like something out of a fantasy book."
Whether the turtle "Thor" and "Loki" become as popular as the movie characters remains to be seen, but Ray says they will make an appearance on the second season of the AMC series "Freakshow," expected to debut sometime early next year.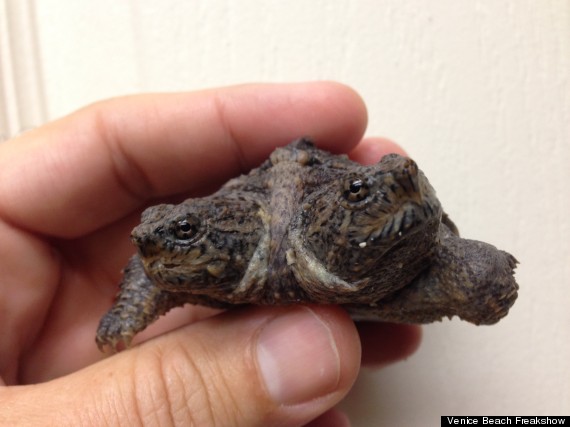 BEFORE YOU GO
PHOTO GALLERY
Todd Ray's Two-headed Animals