Just how big was Typhoon Haiyan?
On Monday, a map by the American Red Cross that claimed Typhoon Haiyan would've almost covered the entire continental United States spread like wildfire on the Internet. The map, however, was inaccurate.
Still, though the super typhoon didn't span the length and breadth of the U.S., it was a storm of mammoth proportions.
Last week, Los Angeles Times' Michael Muskal said the super typhoon would make Hurricane Katrina and Hurricane Sandy, which ravaged the United States in 2005 and 2012, respectively, look like "weak cousins."
Haiyan, believed to be one of the strongest storms on record, sustained winds of 235 kph (147 mph) with gusts of 275 kph (170 mph) when it made landfall Friday. Katrina and Sandy, in contrast, carried winds of about 129 mph and 95 mph, respectively, when they touched down, according to Muskal.
In the images below, provided by the University of Wisconsin's Space Science and Engineering Center, Haiyan and Katrina are pictured side by side. The image on the left shows what it would've looked like had Haiyan landed near the Gulf of Mexico, while the one on the right is an actual image of Hurricane Katrina: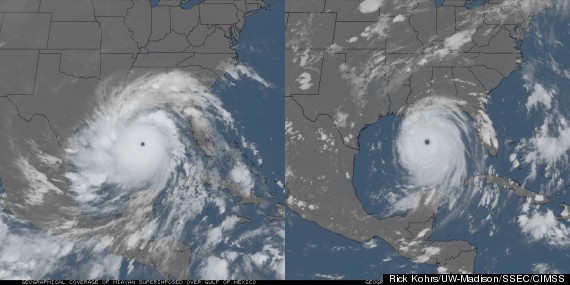 Last week, in the hope of providing some perspective to those outside the Philippines as to the massive scale of this disaster, Derek Medlin, an editor at CBS-affiliate WRAL.com, tweeted a photograph of what it would've looked like if the typhoon had made landfall near North Carolina:
Some perspective on Typhoon Haiyan...here is a shot of the storm with the eye near Cape Hatteras: pic.twitter.com/EfCHJz8gQ0

— Derek Medlin (@DerekMedlin) November 8, 2013
"Since its initial landfall on Friday, November 8 in Eastern Samar, Philippines, more than 600,000 people have been displaced, and more than 1,400 evacuation centers have been opened," the American Red Cross wrote on its blog of the disaster. "The Philippine Red Cross is reporting at least 1,200 deaths, with the number likely to increase as previously inaccessible areas are reached."
Some officials in the Philippines have said the death toll could top 10,000.
Want to help? Click here to learn about how you can lend a hand to the survivors of Typhoon Haiyan.
BEFORE YOU GO
PHOTO GALLERY
Typhoon Haiyan