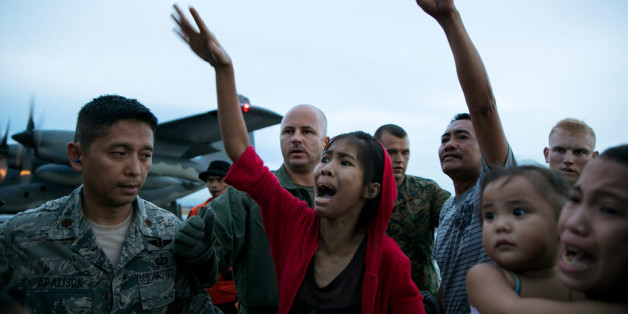 US Navy helicopters and planes Friday launched non-stop aid flights to desperate survivors of a super typhoon in the Philippines that killed thousands, igniting a global relief effort criticised for being too slow.
On the USS George Washington a continuous stream of helicopters landed and took off from the huge carrier as they shuttled supplies to the devastated city of Tacloban and remote villages.
Amid the roar of aircraft sailors bustled to load boxes of food and other relief goods onto helicopters, as enormous volumes of water were desalinated before being sent to the thirsty and famished victims of last week's typhoon.
"The USS George Washington is delivering water, medical supplies and hygienic supplies" to towns worst hit by Super Typhoon Haiyan," US Seventh Fleet spokesman Lieutenant David Levy said in a statement.
Twenty US Navy helicopters were in "continuous operation", he added, saying some had been evacuating wounded and destitute survivors from remote areas devastated when the Category Five storm hit, packing brutal winds that generated tsunami-like waves.
The United Nations said almost 4,500 had been confirmed killed in the typhoon -- one of the strongest ever recorded -- and the lives of many others were hanging by the thinnest of threads, even as the relief operations moved up a gear.
The Philippines' disaster agency upped their toll to 3,621 as the government and the UN continued to disagree over the count.
In Tacloban city's only functioning hospital -- without a roof, power or water -- a woman frantically pumped air into the lungs of her husband, lying critically ill a day after his leg was amputated.
Valentina Gamba, the head of nursing at the hospital, said they had tried to discharge patients who they could not feed.
"But they still stayed for shelter... because they cannot go home," Gamba told AFP.
Several kilometres away at the city's airport, hundreds of famished and homeless survivors hoping to escape stricken Leyte island looked on as American soldiers unloaded aid from aircraft onto trucks.
Emergency supplies have been excruciatingly slow to get through to increasingly desperate survivors, with United Nations humanitarian chief Valerie Amos admitting that the delivery of relief goods had not been quick enough.
The USS George Washington Strike Group -- with 5,000 sailors on the huge carrier alone, and seven other ships -- arrived on Thursday with badly needed equipment, manpower and expertise, giving some hope that the delivery of aid would speed up.
"I heard there are now American planes," 28-year-old Merly Araneta said.
"I will try to make it to the airport. But I have only eaten twice in five days and drank rainwater collected in a plastic cup. I am so tired."
Ships and planes from Asia-Pacific nations and Europe are converging on the Philippines, bearing food, water, medical supplies, tents and other essentials.
Prime Minister David Cameron dispatched the biggest vessel in Britain's own fleet, a helicopter carrier, while heavy transport planes carrying equipment such as forklift trucks have already arrived.
China has upped its aid contribution after its initial offer of $100,000 was widely criticised, and its state media increased the pressure on Beijing Friday, urging it to join other countries in deploying warships.
At Tacloban airport US aircraft were coming in two at a time. American servicemen were driving trucks loaded with aid and appeared to be acting quasi-independently, with a large part of the airfield to themselves.
"The Government of the Philippines requested assistance in getting supplies to remote areas inaccessible by truck, so that's where the focus has been," the US Navy's Levy said in the emailed statement.
"Guiuan is the supply hub and Navy helicopters distribute from there to the remote areas where need is greatest."
"In addition, USS George Washington and USS Lassen helicopters have carried displaced and injured civilians from remote areas such as islands in Leyte Gulf to areas where medical aid is present," he said.
Levy added that US Navy amphibious ships -- the Japan-based USS Germantown and USS Ashland -- were expected to arrive in three to four days.
On Tacloban's streets, the sense of want is gnawing for a population in dire need of the basics of life.
In a heavily damaged school that had been turned into a makeshift shelter for around 1,000 people, Alita Nabelga, 81, said water was starting to get through but that there was no food or medicine.
"It is so hard for us here. There is nothing to eat. There is water that is rationed. But it would be better if there was food," she said.
"Where are the Americans? Are they bringing us rice?" she added.
A US embassy official told AFP that the carrier's strike group was getting supplies on to the ground.
"We're setting up a significant presence but it is still under the direction of the Philippines," he said.
Aid agencies welcomed the USS George Washington's arrival.
"It will probably stabilise the situation for people in remote communities who remain isolated," Red Cross spokesman Patrick Fuller said.
"What is critical is that we humanitarian organisations have good cooperation with the military. It's crucial that good civil-military operations work effectively. We have experience in places like Haiti where there was some communication gap."
AFP journalists saw dead bodies still lying by the side of the road Friday, and the smell of rotten flesh hung in the air, despite many corpses being put in bags ready for mass burial.
While the retrieval of the dead continues, there are growing fears for the health of those who survived.
The World Health Organisation says there are significant injuries that need to be dealt with -- open wounds that can easily become infected in the sweltering tropical heat.
Experts warn that a reliable supply of clean drinking water is vital if survivors are to avoid diarrhoea, which can lead to dehydration and death, especially in small children.
BEFORE YOU GO
PHOTO GALLERY
Typhoon Haiyan