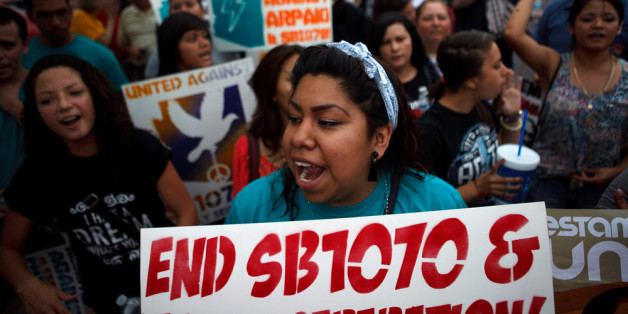 The American Civil Liberties Union is renewing its efforts to take down Arizona's controversial 2010 immigration enforcement law.
The ACLU plans to sue the South Tucson Police Department on behalf of Alejandro Valenzuela, the Arizona Daily Star reports. Police allegedly detained Valenzuela over the summer for five hours to question him about his immigration status and handed him over to Border Patrol without charging him with a crime. Valenzuela benefits from deferred deportation under the DACA program implemented by the Obama administration last year.
"I felt racially profiled," Valenzuela said, according to KVOA News.
The coming lawsuit marks the first legal challenge to the so-called "show me your papers" provision of Arizona's 2010 law SB 1070 since the Supreme Court left it standing last year.
The ACLU said Valenzuela was sitting in parked car when police approached him to quesiton him about his immigration status. Under the Arizona law, police may only question people's immigration status when stopping them for other reasons.
"Even though he provided multiple forms of identification and had not committed any crime, the officers unlawfully arrested and drove Alex to Border Patrol's Tucson Sector headquarters where he was detained for an additional five hours," the ACLU said in a statement quoted by the Phonenix New Times.
Opponents of the Arizona "papers please" provision have argued the law would lead to racial profiling, but the Supreme Court ruled that the section could in theory be applied without violating the Constitution. U.S. District Court Judge Susan Bolton allowed the provision to go into effect in September of last year.
"Lawsuits about the implementation of SB 1070 were inevitable after the Supreme Court's ruling," Lynn Marcus, co-director of the immigration clinic at the University of Arizona's James E. Rogers College of Law, told the Arizona Daily Star. "It (the Supreme Court) didn't want to strike down the provision in the abstract. It didn't want to assume police departments would implement it in an unconstitutional manner."
BEFORE YOU GO
PHOTO GALLERY
6 Misconceptions About The Border