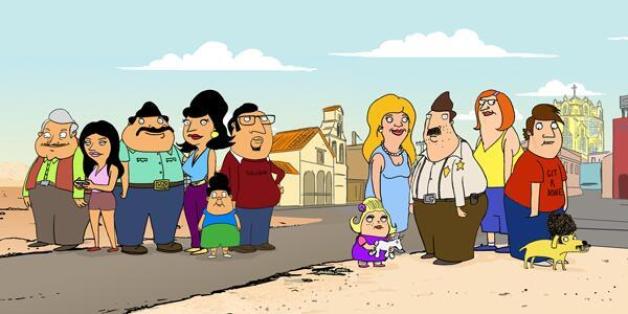 Seth MacFarlane will soon be straddling a dangerous line between low brow humor and cultural sensitivity -- and he's doing it by the Mexican border.
The man behind "Family Guy" and "Ted" will tackle the United States' cultural shift in the new animated series titled "Bordertown," Deadline reports. Fox announced on Friday that it had ordered 13-episodes of MacFarlane's series, news that vexed many who believe the show will only perpetuate culture stereotypes with offensive jokes.
That is until Chicano artist Lalo Alcaraz was enlisted.
The show, scheduled to debut in 2014, will be set in a fictitious desert town near the U.S.-Mexico border and wil follow the lives of two neighbors. Bud Buckwald is a Border Patrol agent who feels threatened by the cultural changes around him; a difficult perspective to have, while Ernesto Gonzalez, a hard-working Mexican immigrant, is living next door and finding success in the United States. The plot will center around how the lives of these two men inevitably cross and are bound by friendship and conflict.
"Bordertown" was written and created by Mark Hentemann ("Familly Guy"), who will executive produce the series with MacFarlane. On Wednesday, Chicano artist and creator of the first nationally-syndicated Latino daily comic strip "La Cucaracha" confirmed he had signed onto the project via a post on humor and satire site Pocho.com.
"I was offered a gig writing and consulting on the show, and I happily accepted," Alcaraz wrote in a post on Pocho. "This will be the first animated prime time network TV show with a significant number of Latino characters. Over half the cast will Mexican or Mexican-Americans or Chicanos. It will be historic. I know, it's just a cartoon. But if you know me, you know how I feel about cartoons. They are super important! Cartoons have allowed me to tell truths, to pick fights with the privileged, the greedy and the stupid."
The artist later elaborated via Twitter which character would be the target of most of the jokes.
Bordertown is going to be silly and funny and also political, & everyone will get skewered, but especially the knucklehead lead Bud Buckwald

— Lalo Alcaraz (@laloalcaraz) November 13, 2013
Before Alcaraz announced his involvement with "Bordertown," however, the news of the series had already sparked skepticism.
"Oh no. MacFarlane's not known for his racial sensitivity," Connor Simpson wrote for The Atlantic. "In fact, his new show, Dads, which Fox picked up for a full season, was questioned initially because some scenes were deemed 'too racist'."
"Great, just great. What the world really needs. An immigration humor cartoon by a privileged white guy who will probably think this is all witty," Latino Rebels wrote in a post on Tuesday.
In the Pocho post, Alcaraz defended the series saying critics were judging a show that had yet to premiere.
"Where did they see any episodes of Bordertown? We haven't even written the pinche show yet! We just started Monday," the artist retorted in the post. "Do these people have a Time Machine? May I borrow it? I'd like to meet Zapata. Anyhow, I know people hope the show is good, and that the portrayals of Latinos and immigrants aren't the same old Hollywood crap. So do I. That's why I signed on."
The Chicano artist added that the writer's room for "Bordertown" will have four Mexican-Americans. Later Latino Rebels updated their post with news of Alcaraz being enlisted as a consultant for the show.
"Let's hope our dear friend Lalo Alcaraz can steer people the right way on this one," the Latino blog wrote. "But right now the jury is still out."
Check out the characters of "Bordertown" below:
Fox Orders 13 Episodes of #Bordertown, a New Animated Comedy from Seth MacFarlane http://t.co/hceMVhsKE2 pic.twitter.com/WxgpxrS5SJ

— tv.com (@tvdotcom) November 10, 2013
BEFORE YOU GO
PHOTO GALLERY
The Political Satire Comedy Of Lalo Alcaraz