Fresh after adorning Doha, Qatar with 14 giant, bronze fetuses in various stages of development, the richest and arguably most abrasive living contemporary artist has graced us with the presence of his personally designed scarf collection.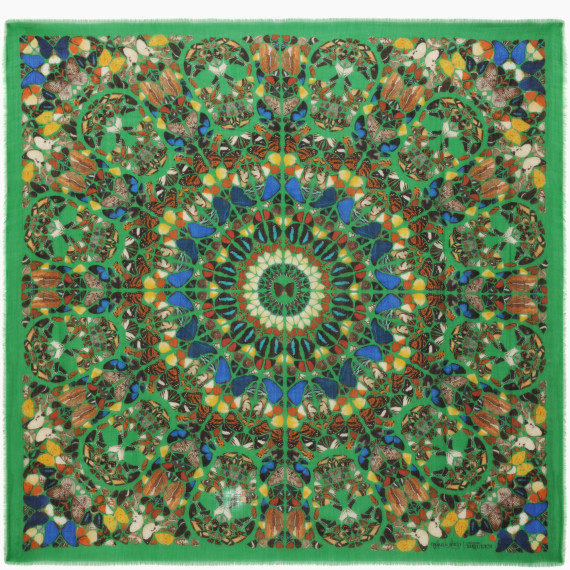 That's right, Mr. Damien Hirst is currently collaborating on a scarf series with legendary fashion house Alexander McQueen. T Magazine referred to the happy couple as a "perfect pairing" but we're a bit more nauseated skeptical.
For inspiration, Hirst has returned to the epic butterfly collages that marked his Tate Modern exhibition last year -- yes, the ones that involved the untimely death of 9,000 innocent butterflies. Now the memory of the winged martyrs can be worn around your humble neck for the price of anywhere between $515 and $1175.
The 30 original scarf designs merge the iconic images of Hirst's Entomology Series with McQueen's iconic skull, celebrating the 10th anniversary of the McQueen skull scarf. Although a grand may seem like a hefty price for a square of neck coverage, we're sad to say that, as far as Hirst is concerned, this is a relatively affordable relic. Last year his backpack collaboration with Mary Kate and Ashley Olsen of The Row went for an undisclosed, but surely exorbitant-beyond-our-wildest-imagination sum.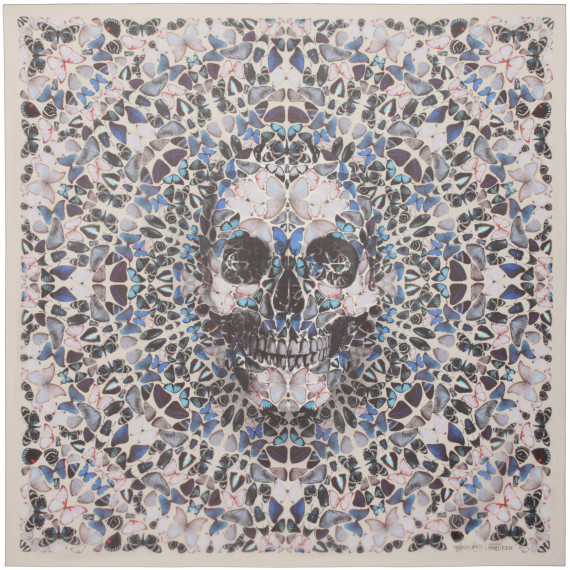 As if this artistic collaboration wasn't overwrought enough, the two artistic super-forces enlisted photographer Sølve Sundsbø to create a short film about the scarves. Vogue called it "ethereal, compelling and otherworldly, it's everything we'd expect from two of the darkest names in fashion and art."
We tend to be in agreement with commenter Luba Daskalska who clarified: "It is not an alien but a piece of his scarf collection." In conclusion, they are scarves, people.
Watch the most melodramatic film to ever revolve around scarves below and let us know your thoughts on this collaborative effort in the comments.
The scarves officially go on sale November 15. In the meantime, watch Hirst frolic with his butterflies in their final moments in the slideshow below:
PHOTO GALLERY
Damien Hirst And Butterflies
Correction: An earlier version of this story incorrectly listed the location of Hirst's sculpture in Doha as Dubai. We regret the error and it has since been fixed.