Maui is on an island-wide search for a young humpback whale that was seen entangled in polypropylene fishing line Monday.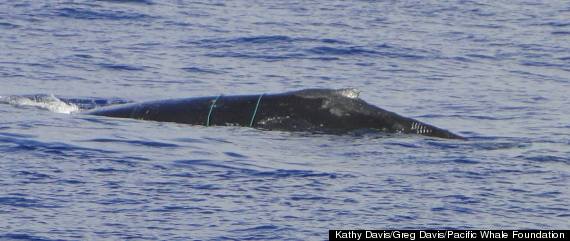 Hawaii News Now reported that the Pacific Whale Foundation, a whale advocacy nonprofit based on Maui, spotted the whale while giving its regular whale watching boat tour about one and a half miles off Lahaina.
"As we got closer, we noticed that the whale didn't seem to be lifting its fluke (tail) out of the water as it dove," said Sierra Frye-Keele of the Pacific Whale Foundation. "We eventually realized that the tail area was entangled in a what appeared to be a large, green polypropylene line."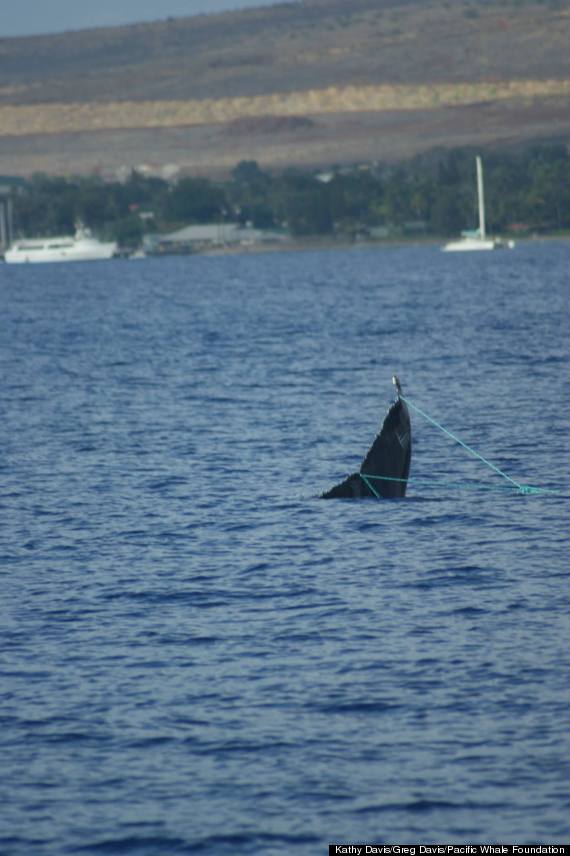 Fishing line is one of the biggest killers of whales. In fact, a study conducted by the Woods Hole Oceanographic Institution found -- over a period of thirty-nine years -- 43% of large whale deaths and serious injuries in the northwest Atlantic were caused by fishing line.
The tour boat tried to stay with the whale as long as possible while it waited for a response team from the Hawaiian Islands Humpback Whale National Marine Sanctuary to arrive, but eventually had to turn back to harbor to return its passengers.
A raft volunteered to stay with the whale, but as evening approached, the whale started to dive deeper and swim faster, making it impossible for the raft to keep up.
The Hawaiian Islands Entanglement Response Network is actively searching for the whale in order to disentangle it from the fishing line. The response network has freed 17 whales of entangling gear since 2002, totaling in over 7,000 feet of fishing line.
Fishing line is an almost immediate death sentence for smaller marine life like dolphins, turtles and seals according to Lauren Campbell, Conservation Manager at Pacific Whale Foundation. "Large whales are strong enough that they can end up dragging gear for days and months, which gives response teams time to get out on the water."
But just because whales can swim with the line longer does not mean they are any better off. It takes whales an average of six months to die from a line entanglement, according to scientists at the Woods Hole Oceanographic Institution. The line, and the gear that often drags along with it, "can slice flesh, deform bone, amputate flukes, and restrict breathing, eating, and swimming as it drags through the water."
You can stay up to date on the fate of the young Maui whale through the Pacific Whale Foundation's Facebook page. If you see an entangled whale, immediately call the NOAA Fisheries Hotline at (888) 256-9840and collect as much information as you can about the individual (e.g. location, speed, direction traveling). Pictures and videos will also help properly authorized teams better assess the situation.
Feeling an impulse to jump in the water and search for the little guy yourself? Even if you are not on Maui you can help. Only eat seafood from sustainable fisheries, and consider "Volunteering on Vacation" with the Pacific Whale Foundation the next time you're on Maui.
BEFORE YOU GO
PHOTO GALLERY
100 Most Threatened Species