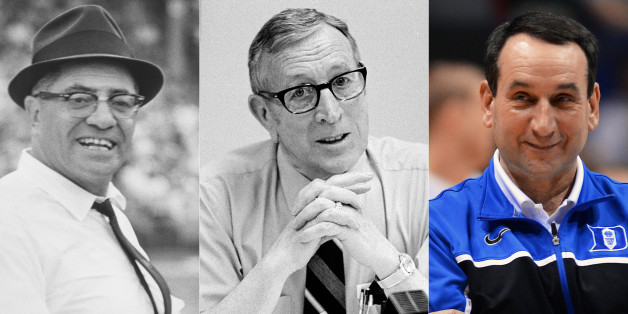 Certainly great coaches spend a great deal of time and effort trying to best their competitors. But for many of the greatest coaches, their legacies go beyond measuring wins and losses, and their words have taken on universal significance. Indeed, some of the greatest coaching advice can be applied to areas that have nothing to do with sports.
Here are some of the most inspiring words from coaches who achieved great success while shaping their players' lives beyond the realm of sports.
John Wooden
"It's amazing how much can be accomplished if no one is concerned with who gets the credit." Wooden is the dean of college basketball. During his tenure at UCLA (1948-75), Wooden won 10 national championships, including seven straight titles, a record that has yet to be matched. His "pyramid of success" is one of the most respected coaching techniques. The Wizard of Westwood ended his career with his 10th championship in 12 years.
As Bill Walton, who played under Wooden from 1971-74, put it: "Coach Wooden never talked about winning and losing, but rather about the effort to win. He rarely talked about basketball, but generally about life. He never talked about strategy, statistics or plays, but rather about people and character. Coach Wooden never tired of telling us that once you become a good person, then you have a chance of becoming a good basketball player."
Vince Lombardi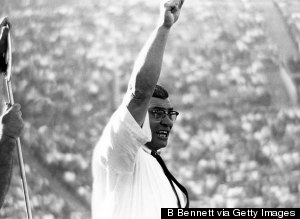 "Leaders aren't born, they are made. And they are made just like anything else, through hard work. And that's the price we'll have to pay to achieve that goal, or any goal."
He passed away more than 40 years ago, but Lombardi's effect on football is still felt. The Lombardi Trophy, given annually to the NFL's Super Bowl winner, is only a small reflection of that. From 1959-67, Lombardi won six championships with the Green Bay Packers, including Super Bowls I and II.
Phil Jackson
"Love is the force that ignites the spirit and binds teams together." He has coached four of basketball's all-time greats: Michael Jordan, Scottie Pippen, Kobe Bryant and Shaquille O'Neal. Jackson, sometimes known as the "Zen Master" for his mastery of mental discipline, won a combined 11 NBA titles with the Chicago Bulls and Los Angeles Lakers between 1991 and 2010. Jackson also won two rings as a member of the New York Knicks during his playing days.
Herb Brooks
"Great moments are born from great opportunities." Brooks is credited for perhaps the most significant international team victory in United States history, the 1980 "Miracle on Ice," when his Team USA shocked the world by beating the Soviet Union in Lake Placid. In 2003, Brooks was killed in a car accident at age 66.
Mike Eruzione, who scored the game-winning goal in that game, talks about Brooks and the night Team USA tied Norway in an exhibition match before the Olympics began: "We skated because we forgot the value of respect. What Herb would tell us is this: 'Respect yourself or you will not be successful, respect your competition or you will not be successful, and respect your teammates ... or you will not be successful.' We never made that mistake again."
Red Auerbach
"He who believes in nobody knows that he himself is not to be trusted." Auerbach coached Bill Russell and the Boston Celtics to 11 NBA championships in 13 years, including eight straight, from 1959-66. Even more significantly, Auerbach, who died in 2006 at the age of 89, made league history in 1950 by drafting the league's first African-American player, Chuck Cooper.
Russell talks about his relationship with his head coach: "I actually loved the man and I never played for him: We worked together ... Red, I trusted him explicitly."
Pat Summitt
"If there is one thing I can't abide it's lack of effort. I don't have much sympathy for people who act like they can't stand their jobs." Summitt is the all-time winningest coach in NCAA basketball history of either a men's or women's team, in any division. She coached at Tennessee from 1974-2012, where she won eight national championships, second only to John Wooden. The 61-year-old Summitt was forced to retire after the 2012 season however due to early-onset Alzheimer's disease.
Dan Gable
"Gold medals aren't really made of gold. They're made of sweat, determination and a hard-to-find alloy called guts."
Gable is the most successful wrestling coach in NCAA history, having captured 16 team titles at the University of Iowa from 1976–97, nine of them consecutive. He also won a gold medal as a competitor in the 1972 Munich Olympics.
Knute Rockne "Build up your weaknesses until they become your strong points."
During his tenure as head coach at Notre Dame from 1918 to 1930, Rockne won four national titles and lost only 12 games. Perhaps his greatest contribution to the sport of football is the increased usage of the forward pass, which he helped to make an integral component of the game. In 1931, Rockne died in an airplane crash at the age of 43.
Mike Krzyzewski
"I have a rule on my team: When we talk to one another, we look each other right in the eye, because I think it's tough to lie to somebody. You give respect to somebody." "Coach K" has won four national titles at Duke during his tenure, which started in 1980. Krzyzewski has also been largely credited with the rebirth of Team USA basketball, which he's coached to two Olympic gold medals. He largely credits both John Wooden and his college coach at West Point, Bobby Knight, for his success. The 66-year-old was inducted into the Basketball Hall of Fame in 2001.
Kobe Bryant, who played on both medal-winning Teams USA, has said he would have gone to Duke if he had gone to college. Bryant has also developed a friendship and admiration for Krzyzewski as well: "I love Coach K's passion, his intensity for the game."
Paul "Bear" Bryant
"Never quit. It is the easiest cop-out in the world. Set a goal and don't quit until you attain it. When you do attain it, set another goal, and don't quit until you reach it. Never quit."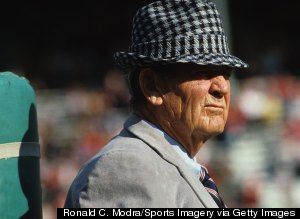 Bryant and his trademark houndstooth hat roamed the Alabama sidelines from 1958 to 1982, though his coaching career began in 1936. He won six national championships with the Tide before passing away in 1983 at the age of 69. In 38 years as a head coach, he won an incredible 323 games and had only one losing season.
David Cutcliffe, currently the head coach at Duke and a former assistant for Bryant at Alabama: "Why did they all call them Bear's Boys? Why were all his players so passionate about coming back? Why did so many of them say, 'He helped me through life'? Those are real qualities that you don't create."
Bob Beatty
"We try to get more done in two hours than other teams do in two weeks."
Beatty has coached at Trinity High School in Louisville, Kentucky since 2000, where he has won 10 state championships. His 2011 team finished 14–0, ranked first in the country.
Alex Ferguson
"I'm going to tell you the story about the geese which fly 5,000 miles from Canada to France. They fly in V-formation but the second ones don't fly. They're the subs for the first ones. And then the second ones take over -- so it's teamwork."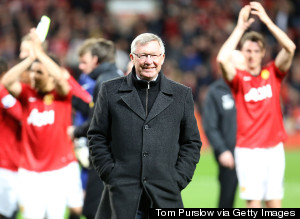 The 71-year-old Ferguson is one of the most well-respected soccer managers in soccer history. During his 26 years with Manchester United, he captured 38 trophies, including 13 Premier League and two UEFA Champions League titles. Ferguson retired before this season and gave this rousing speech to the Man U faithful.