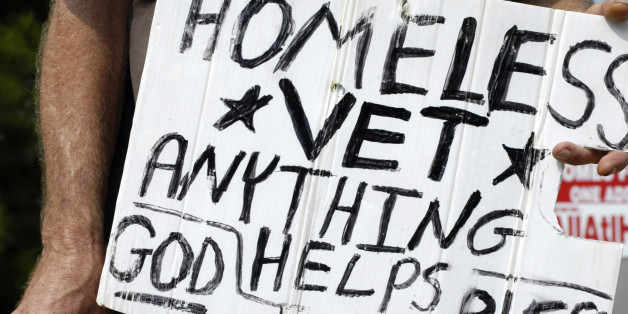 The Department of Veteran Affairs has pledged nearly $14 million in its ongoing effort to end veteran homelessness by 2015.
The VA announced on Tuesday that it will allocate $8.8 million in grants to rehabilitate current housing projects and buy new vans. The vehicles will be used for outreach and to transport homeless vets to medical appointments and to job opportunities. The department also approved an additional $4.9 million to provide better services for homeless vets.
"Our local partners have played a vital role in our effort to find, engage, and rescue every homeless Veteran," Secretary of Veterans Affairs Eric K. Shinseki. "Until no veteran has to sleep on our Nation's streets, we still have work to do."
Such funding boosts the Obama Administration's commitment to get all veterans off the streets in the next two years.
Something appears to be working.
On a single night in January last year, 62,619 vets were sleeping on the streets, a 17 percent drop since 2009.
The government is focusing its resources on funding permanent housing for vets, which allows the VA to spend more on other services, including drug and alcohol counseling and job training.
The VA has committed to spending more than $1 billion in 2014 on preventative and rehabilitative programs for homeless vets.
"People who don't have stable housing create all kinds of other costs. Their health problems are worse. It's pretty much impossible to keep a job, and it has all kinds of snowballing effects," Nan Roman, president of the National Alliance to End Homelessness, told the Associated Press last December. "So these are smart public investments, and we need to keep going to reach these goals."
BEFORE YOU GO
PHOTO GALLERY
Companies That Work To Hire Veterans