If you've ever been to a State Fair in the US, you've probably encountered a mini donut maker. There is something about eating these tiny, bite-sized donuts that makes them feel at once novel and less terrible for you than a whole, adult-sized donut. While that is absolutely not true, we still have always kind of wanted to own one of those machines, and now it looks like we can.
Nostalgia Electrics, makers of all manner of other questionably useful kitchen tools is responsible for this foray into childhood joy. While the Amazon reviews for the Mini Donut Factory seem to indicate the mechanics haven't been fully worked out (one user said, "Just light a match and burn your hard earned money."), it seems like if you are willing to fuss with your batter consistency and relax your idea of what the perfect donut looks like, you could actually get a tasty breakfast out of this thing.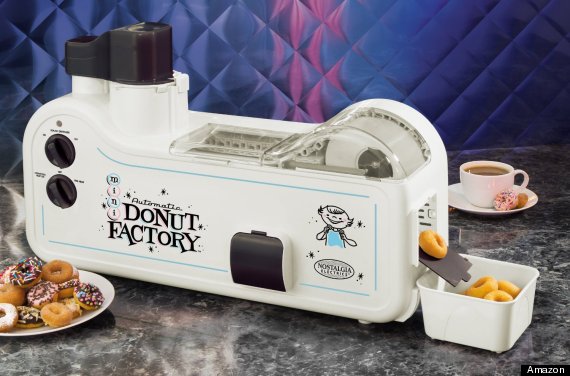 We think we might be willing to try. If you think so too, you're $122 away from mini donuts. Maybe. Fingers crossed.
Want to read more from HuffPost Taste? Follow us on Twitter, Facebook, Pinterest and Tumblr.