When super typhoon Haiyan struck the Philippines on Nov. 8, devastating the city of Tacloban and leaving a huge storm surge and widespread flooding in its wake, the U.S. military was ready to help.
At the request of the Philippines government, Defense Secretary Chuck Hagel directed U.S. Pacific Command to support humanitarian relief operations in the Philippines, and the response so far has been an extraordinary show of America's military capabilities.
The situation in the Philippines is still dire -- rebuilding and relief efforts will undoubtedly continue for years -- but below are 9 facts about the U.S. military's relief efforts that will both inspire you to help and make you proud to be American:
By Nov. 11 (Veterans Day), roughly 90 U.S. Marines from Japan were on the ground in the Philippines and, by that evening, they had successfully delivered 107,000 pounds of relief supplies. There are now more than 250 Marines on the ground.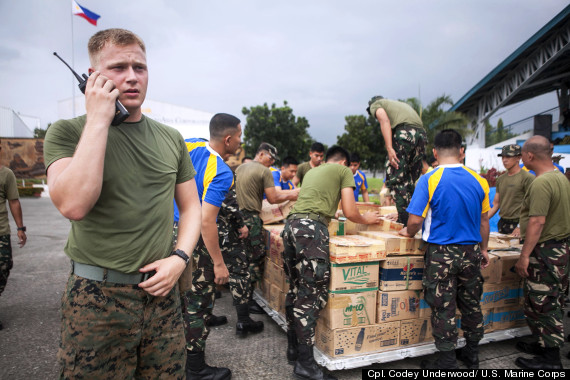 U.S. Marine Lance Cpl. Christopher E. Pring coordinates the loading of palletized water with the Philippine air force for transport at Vilamor Air Base in Manila, Philippines, Nov. 12, 2013.
More Marines, the aircraft carrier USS George Washington, and several smaller U.S. Navy ships soon followed. The USS George Washington has about 80 aircraft aboard it and it can produce an astonishing 400,000 gallons of fresh water per day.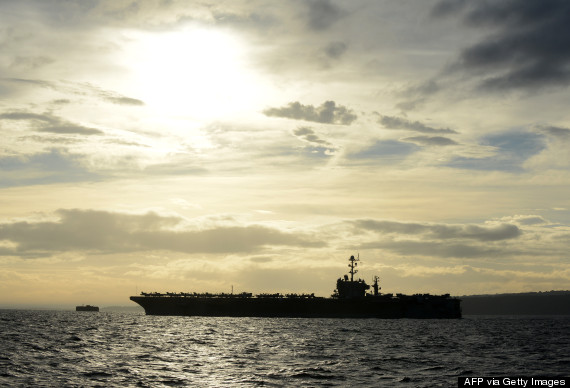 The nuclear-powered USS George Washington Nimitz-class aircraft carrier arrives in Manila for a goodwill visit on October 24, 2012.
Due to the earthquake-prone "Ring of Fire" and weather patterns in the region, more natural disasters occur in the Asia-Pacific region than anywhere else in the world. Since 1990, the U.S. government has responded to more than 40 disasters in the Philippines alone, ranging from volcanic eruptions to drought and population displacement.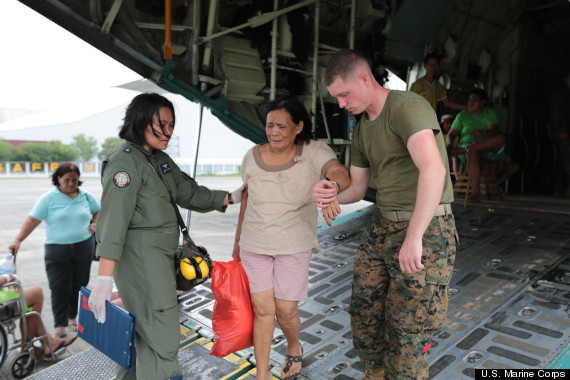 U.S. Marine Corps Lance Cpl. Alan Randall and a Philippine airman assist an injured Filipino woman off a KC-130J Super Hercules at Vilamore Air Base, Manila, Philippines, Nov. 11, 2013.
"The Philippines is a treaty ally, and the United States stands by its friends and allies in times of crisis," Pentagon Press Secretary George Little said of the U.S.'s commitment.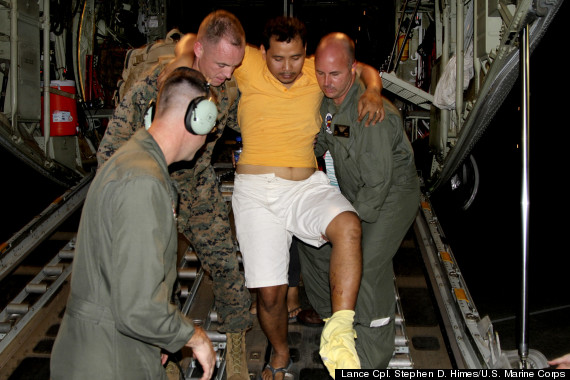 American servicemembers help an injured man off the plane, Manila, Philippines, Nov. 11, 2013.
In between assisting with actual disasters, the U.S. military is training governments around the world on how to prepare for disaster relief, including an annual training exercise with the Philippines. "We constantly train for just these types of contingencies," Pentagon Press Secretary George Little said. "Coincidentally, personnel from China's People's Liberation Army are in Hawaii now conducting a [Humanitarian Assistance and Disaster Relief]-focused exchange with our forces."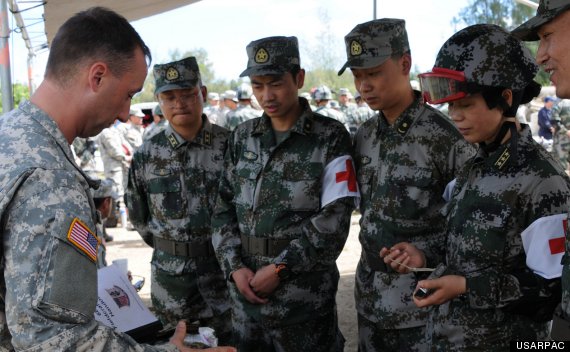 Soldiers from United States Army Pacific, Hawaii Army National Guard and Army Corps of Engineers along with representatives from the Federal Emergency Management Agency participate with the People's Liberation Army in a Disaster Management Exchange, Nov. 12 -14 in Hawaii.
"It's the right thing to do," Navy Adm. Samuel J. Locklear III, the Pacom commander, said last week about the U.S. military's response efforts.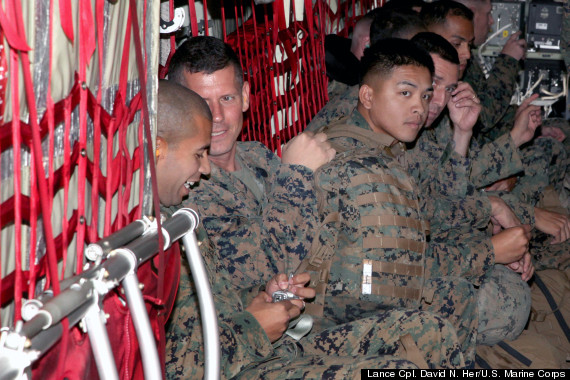 U.S. Marines and sailors deploy to the Phillippines aboard a KC-130J Hercules aircraft at Marine Corps Air Station Futenma, Okinawa, Japan, Nov. 11, 2013. The Marines are assigned to the 3rd Expeditionary Force.
Eight Ospreys are currently in the Philippines, providing a unique and valuable resource: The Osprey can convert between a rotary-wing and a fixed-wing aircraft. The rotary-wing allows for vertical takeoff and landing capabilities, which is incredibly useful in austere environments. The fixed-wing capability provides greatly increased speed and range, which is also necessary in such a large-scale area.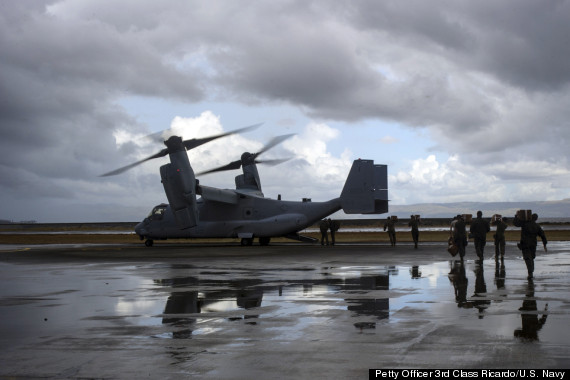 U.S. Marines, assigned to Combat Logistics Battalion 4, load relief supplies onto an MV-22 Osprey in support of Operation Damayan, in Tacloban, Philippines, Nov. 14, 2013.
As of Nov. 13, a U.S. official said that, although there is still a lot of work to do, they are starting to see results: "I would say we are cautiously optimistic that we are starting to turn a corner on some of the logistics challenges. In the last 24 hours we have seen some improvements in the coordination at the airport … but also very critically, an overland route to Tacloban City has now been opened." He described the original conditions as being like trying to squeeze an orange through a straw, and said that now they have more and bigger straws.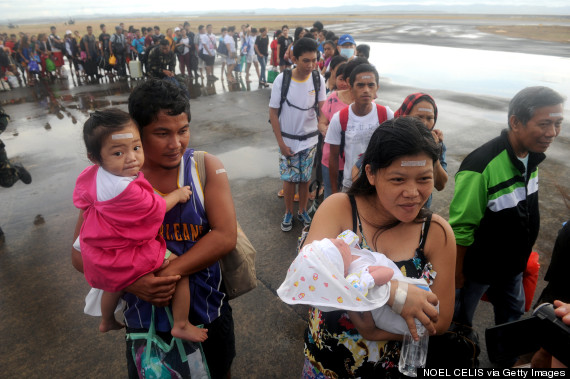 Typhoon survivor Rosel Honrado, 24, carries her one-day-old son Ian Daniel as they take a flight on a C-130 military plane out of Tacloban on November 13, 2013.
Over 1,000 Marines could be deployed to the affected area by the end of the week, and the USNS Mercy, a hospital ship with 1,000 patient beds, is preparing for possible deployment as well. "The Department of Defense is continuing to work closely with the Department of State and the Philippine government to determine what, if any, additional assets may be required," Pentagon press secretary George Little said.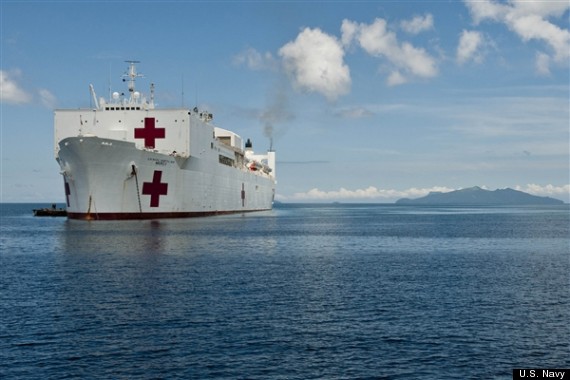 USNS Mercy off the coast of the Philippines during a Pacific Partnership deployment, July 1, 2012.
Want to help? The organizations listed here are mobilizing and deploying major disaster relief efforts. See how you can lend support, and check back for further updates.
BEFORE YOU GO
PHOTO GALLERY
Typhoon Haiyan