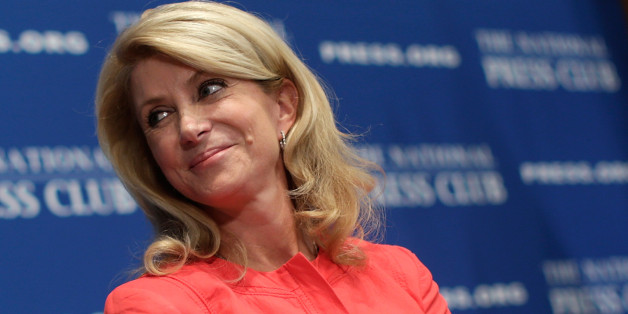 Wendy Davis had a hand in the Nov. 14 episode of "Parks and Recreation." The Texan state senator inspired the "Parks and Rec" writers to have their hero, Leslie Knope (Amy Poehler), do some filibustering of her own.
"When Wendy Davis was filibustering for real and we were all watching it on the streaming video, like, seven of our writers were instantly emailing saying, 'Leslie's got to do this,'" executive producer Michael Schur told EW. "And it wasn't about the same subject, obviously, but it's been really nice when national events emerge that seem interesting ... to play them out in the elected office setting."
In "Filibuster," Leslie Knope will fight for the rights of the new Eagleton residents of Pawnee to vote in her recall election. Davis made headlines in June when she did a 13-hour filibuster to protect abortion rights in Texas.
Davis' filibuster inspired a massive social media response with memes, tweets and even art.
The official description of the Thursday, Nov. 14 episode:
LESLIE FIGHTS FOR THE RIGHT TO VOTE –SPECIAL GUEST TATIANA MASLANY ("ORPHAN BLACK") ALSO STARS-- Leslie (Amy Poehler) throws Ben (Adam Scott) a birthday bash but is forced to leave early for an emergency late-night filibuster. Tom (Aziz Ansari) tries to make some memories with his new girlfriend (guest star Tatiana Maslany), Ron (Nick Offerman) and Donna (Retta) go hunting, and April (Aubrey Plaza) reconnects with Andy (Chris Pratt). Rob Lowe, Rashida Jones, and Jim O'Heir also star.
"Parks & Recreation" airs Thursdays, 8 p.m. EST on NBC.
BEFORE YOU GO
PHOTO GALLERY
'Parks and Recreation'