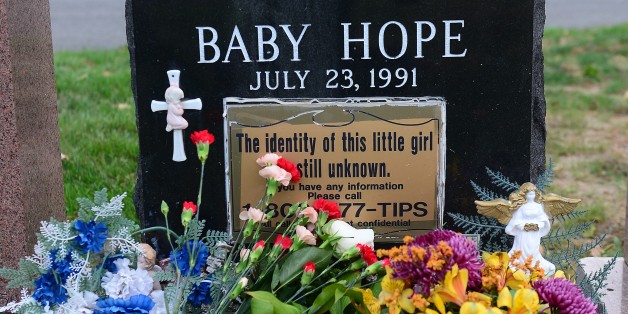 By Murray Weiss

MANHATTAN -- After 22 years, a headstone bearing the name Anjelica Castillo -- the real name of Baby Hope -- will finally be unveiled Friday morning at a ceremony presided over by the same priest who gave the child's eulogy her decades ago.
"To be able to put a name on the stone and connect it to an actual child and a person rather than a nameless person brings so much more dignity to this unfortunate tragedy," said Father Rudy Gonzalez.
"The mystery surrounding her identity has always been in the back of your mind, wondering what was going to happen," the priest said. "It is great to have closure to something that was up in the air for so long."
The emaciated body of a child later called Baby Hope was found on July 23, 1991 in a cooler left in a park along the Hudson River in Washington Heights.
Detectives initially believed they would quickly solve the case because murders of children usually involve their family members -- and they expected someone to come forward with a tip.
But it took decades for that tip to come.
"Every death is special, but this was definitely different and affected the entire community and was a very moving occasion," said Gonzalez, who is now a pastor in the Northeast Bronx. "There were unanswered questiones, an unnamed child, a void."
As Gonzalez recalled, the NYPD detectives from the 34th Precinct became the child's family. They gave her the name Baby Hope, arranged her funeral, which was attended by 500 mourners, and paid for her headstone and burial in St. Raymond's Cemetery. "It was a very dignified thing to do back then."
Detectives visited Baby Hope's grave every year to pay their respect and vowed to never let her killer get away. 
Over the years, they ran down hundreds of leads only to meet dead ends, until finally last summer a woman called police saying she had overheard a woman talking about her little sister, who she believed had been murdered decades ago.
The tip led to Baby Hope's mother and to Baby Hope's real identity. The NYPD also tracked down the accused killer, Conrado Juarez, 52.  Juarez, who is married and has four children, confessed he sexually assaulted Baby Hope and then smothered her with a pillow when she began making noise.  He subsequently claimed his statements were coerced.
The detectives who are working on the Baby Hope case -- including some, like Joe Neenan, Mike Davis and Jerry Giorgio who have been there since the grim beginning -- said they hope to pay their respects to Castillo on Friday.
Giorgio, 79, said he had looked forward to this day since the first time he laid eyes on the child's body.
"I feel terrific," he said. "The case has been open all these years, but it is going to be marked closed -- a positive and satisfying outcome for everyone involved in her investigation all these years."
"We have come full circle," he said.
Rev. Gonzalez said he sees a divine hand at work.
"I was thrilled when I finally heard her name," he said. "She was no longer a child, but a specific child who had a family, background and a life that was unfortunately taken in an awful way.
"But this makes her special," he added, "and if you wait long enough...you see God truly knows what he's doing."
BEFORE YOU GO
PHOTO GALLERY
Missing Children