It's that time of year again, when documentarians flock to New York City with film reels in tow to wow audiences with some of the industry's best non-fictional works of art. The occasion is DOC NYC, a week-long documentary festival that endeavors to showcase established and up-and-coming filmmakers alike.
The 2013 festival is sure to put more than few documentaries on the map, as well as solidify the buzz around already talked about films (ahem, any Michel Gondry film). To heldbp you navigate the massive amount of documentaries on parade at the fourth DOC NYC edition, we've put together our list of the 15 films you can't miss. Behold, your truncated DOC NYC brochure:
1. Death Metal Angola
Jeremy Xido's documentary tells the story of hardcore music in Angola's second largest city, Huambo, and how two young people used the genre in one particularly unexpected way -- as a means of raising funds for orphaned children in the town. ( Saturday, November 16)
2. The Final Member
Ever heard of the Icelandic Phallological Museum? It's a bizarre institute dedicated to collecting and preserving the male genitals of all types of mammals. The eclectic director, Siggi, has even offered to donate his penis to complete the set, as have a few other odd balls who make an appearance in Jonah Bekhor and Zach Math's film. (Friday, November 15)
3. Magical Universe
We love a good outsider artist documentary. This one focuses on Al Carbee, an 88-year-old who creates epic works of art using Barbie dolls. Intrigued much? (Thursday, November 21)
4. Finding Vivian Maier
Produced and directed by Charlie Siskel and John Maloof, the film chronicles the posthumous fame of Vivian Maier, a mostly unknown photographer and part-time nanny who spent 40 years capturing the towering monuments and varied faces of Chicago's street life. (Sunday, November 17)
5. Is the Man who is Tall Happy?
Noam Chomsky's philosophical musings mix with Michel Gondry's whimsical animations to explore Chomsky's theory on the emergence of language. The much anticipated collaboration will close out the DOC NYC festival. (Thursday, November 21)
6. The Punk Singer
An homage to the explosive feminist movement known as Riot Grrrl, Sini Anderson's film focuses on the life of Kathleen Hanna, the fearless frontwoman of bands like Bikini Kill and Le Tigre, who, after an extended stay of out the spotlight, is returning with the launch of her new band, The Julie Ruin. (Saturday, November 16)
7. What is Cinema?
Chuck Workman creates a collage of the most groundbreaking films ever made, interspersing interviews with contemporary filmmakers David Lynch and Michael Moore with archival footage from greats like Alfred Hitchcock. Cinephiles rejoice, this one's for you. (Tuesday, November 19)
8. Revenge of the Mekons
The Mekons -- or "the band that took punk ideology most seriously" -- went from politically-inclined art students with no musical talents to an un-categorizable cultural phenomenon that's still evolving today. Joe Angio's film dives into the Hank Williams-inspired punk ethos that the Mekons worked hard to shape. (Friday, November 15)
9. American Commune
Directed and produced by Rena Mundo Croshere and Nadine Mundo, the documentary explores the countercultural and utopian community in the middle of rural Tennessee known as The Farm. Run by guru Stephen Gaskin, it was the childhood home of the Mundo sisters. (Sunday, November 17)
10. Sole Survivors
In Ky Dickens's heart wrenching film, four "sole survivors" of major commercial plane crashes speak publicly for the first time, recounting their terrifyingly unique experiences with miraculous survival. (Friday, November 15)
11. Mission Congo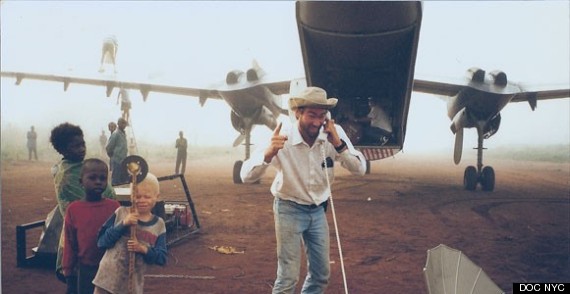 This is the film televangelist and millionaire religious right figure Pat Robertson doesn't want you to see. The documentary outlines a refugee crisis in the Democratic Republic of Congo, when Robertson ran a heavy-handed media campaign money for his charity, Operation Blessing. While Robertson relayed stories of his charity's relief efforts in Congo, filmmakers Lara Zizic and David Turner turn an eye to another possible motive -- diamond mining. (Saturday, November 16)
12. The Unknown Known
Errol Morris rips his way through Donald Rumsfeld's memory, tracing the politician's work as a member of Congress to a high level aid to presidents like Richard Nixon and Gerald Ford to his fall from grace as President George W. Bush's Secretary of Defense. Why did Rumsfeld agree to conduct extensive interviews with renown filmmaker, Morris? Not even he knows. (Thursday, November 14... stay tuned for more showings at other documentary festivals)
13. Uranium Drive-In
Suzan Beraza's story of how one struggling Colorado mining town turns to the economic promise of a new uranium mill, despite growing concerns for a Fukushima-like disaster. (Friday, November 15)
14. We Always Lie To Strangers
Have you ever been to the tiny Ozark town of Branson, Missouri, the vacation destination for more than 7.5 million visitors hoping to see more than 100 family-run variety shows? Well, here's your chance, courtesy of filmmakers AJ Schnack and David Wilson. (Saturday, November 16 & Monday, November 18)
15. Grey City
Behold, the artists who unleashed a "graffiti war" against local governments in Brazil, a movement that stood as one of the most creative resistances in Latin America. (Wednesday, November 20)
DOC NYC will run from November 14 to November 21, 2013. We encourage you to check out the more than 130 films on view here.
BEFORE YOU GO
PHOTO GALLERY
10 Documentaries You Can't Miss At DOC NYC 2012