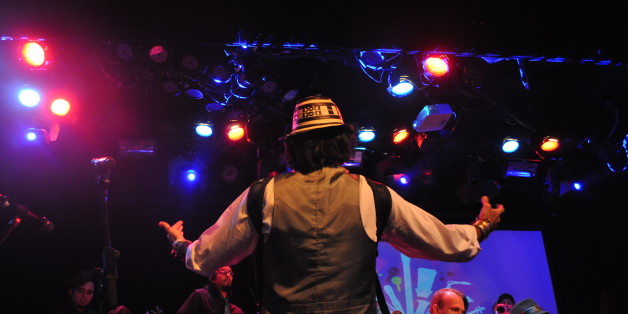 NEW YORK -- The city's largest Colombian music festival is back.

Some of the most talented Colombian musicians in the United States will gather Saturday in New York for a six-hour festival celebrating the diversity of the country's sounds -- from Vallenato, to cumbia, to punk-inspired rock.

"This festival at [music venue] Le Poisson Rouge is absolutely mandatory for anyone who loves jazz, Latin, world and just music in general," Grammy Award-winner Arturo O'Farrill said in a press release.

Now in its 10th year, the annual Encuentro NYC Colombian Music Festival evolved out of the city's thriving Colombian music scene. Composer and pianist Pablo Mayor, who organizes the event with his wife, Anna Mayor, said they founded the festival with a spur-of-the-moment decision to organize a show with the visiting Gaiteros de San Jacinto.

"People came and we charged whatever," Mayor told The Huffington Post. "It just continued."
Multi-instrumentalist, composer and crooner Gregorio Uribe, whose 16-piece big band will play on Saturday, said it was through the Encuentro that he got his start in New York five years ago.
"I came down from Boston and saw it, and I was very amazed," Uribe told HuffPost. He said he thought to himself: "OK, that's a scene, there's already a scene there that I want to be part of, I want to get to know the musicians -- so that was great … That was our first initiation into New York and it was a beautiful experience."

Pushing forward more with heart and determination than financing, the show has continued to grow. When Hurricane Sandy threatened to undermine last year's event, organizers responded by donating the proceeds to the storm's victims.
Nine bands played last year's festival. This year's event will feature 14, along with the Pajarillo Pinta'o Dance Company. Each band brings a distinct sound, highlighting the South American country's musical diversity. Traditional and innovative music, as well as sounds from the urban, coastal and rural areas of the country, all have a place at the festival.

"There's people from la costa, there's influence from the llanos," Uribe said, referring to the coast and the plains -- regions of Colombia with distinct musical traditions. "And here, because it's like a neutral zone, everyone can come together."

Grupo Chonta brings the percussion-heavy sounds of the Pacific, while Grupo Rebolú performs Afro-Caribbean rhythms like bullerengue. Alejandro Zuleta's Vallenato Collective offers its rendition of one of Colombia's most popular forms of dance music.

Colombian music doesn't exist in a vacuum, however. Pablo Mayor's Urbano Orchestra fuses the virtuoso dexterity of hard jazz with Colombia's traditional rhythms and a hint of salsa. Chia's Dance Party takes some of its cues from the jazz of New Orleans. M.A.K.U. Sound System, referred to affectionately by Mayor as the "next generation," plays a hard-driving, funk-infused brand of rock that incorporates Colombian percussion and traditional instruments like the gaitas.

Regardless of the type of music being played, Mayor said the festival's main goal is to educate people about Colombia's music while putting on a fun show.

"People always leave very happy," Mayor said. "That's something we're very proud of."

Check out the acts that will play at this year's Encuentro below.
BEFORE YOU GO
PHOTO GALLERY
Encuentro NYC Colombian Music Fest 2013