The four young men from Long Island who were ticketed after capturing two deer and posting photos of the incident on Instagram are now facing fines of up to $1,700.
Officers from the New York Department of Environmental Conservation said the friends captured and photographed the deer just for the "thrill" of it.
Newsday reports officials were tipped off by an anonymous source on Oct. 31 about the existence of the pictures, which showed "young men posing with a live yearling whitetail deer."
The following day, officers confronted George Salzmaan, 18, and three of his friends at a local business, and the boys alluded to officers that the deer shown in the Instagram photos was actually the second deer that they had captured.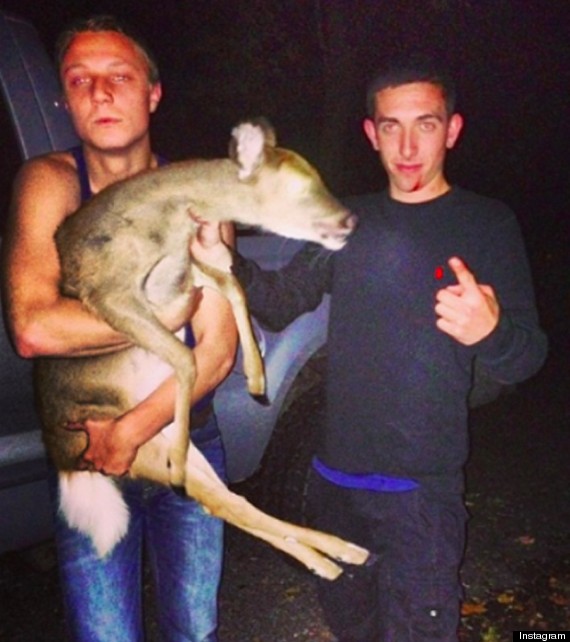 According to officials, the deer in the photos appeared "stressed" and the situation could have been potentially dangerous to both the animal and the young men. "Although these young men may have thought their actions were harmless and trivial, serious consequences can occur due to these types of actions," said DEC Regional Director Peter Scully in a statement. "Wildlife can be dangerous and unpredictable."

Salzmann, the de-facto leader of the group, spoke to WABC about the photos and said that the deer had been trapped in a fence when the boys stumbled across it. "We were all helping him... taking the deer, taking it back to the house, cleaning its face off, taking the blood it got from the fence," said Salzmann to reporters. "And then releasing him... In my eyes, I'm a sportsman, I hunt, I fish, I could have just left him on the fence and did nothing about it."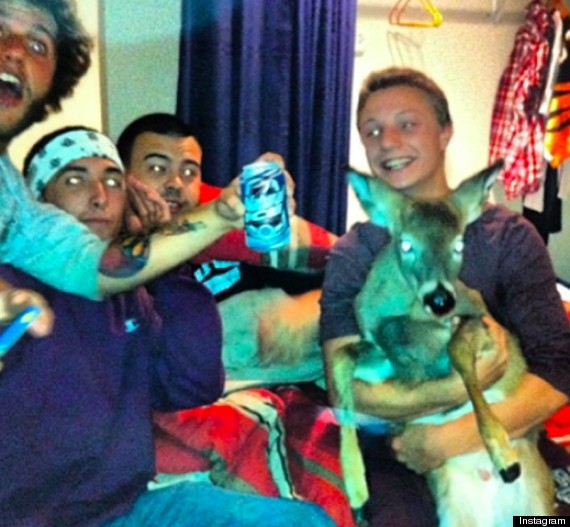 Salzmann and his friends, may have stumbled upon the first deer, but they intentionally captured the second deer by chasing it in a car and trapping it against a fence.
Salzmann and his three accomplices: Conor Lingerfelt, 19, Joseph Sacchitello, 20 and Anthony Infantolino, 20 were all ticketed.
The DEC informed press that Salzmann was issued two tickets, one "for the illegal take and pursuit of protected wildlife" and one "for failing to tag a six point buck deer head" that Salzmann had at his home. Lingerfelt was issued two tickets as well for illegal take and pursuit, while Sacchitello and Infantolino each received one ticket.
The teenagers are scheduled to appear in court on Nov. 27.
Salzmann acknowledged that he should not have posted the photos to the social networking site. "Probably wasn't a good idea to take pictures and make a big deal out of it," said Salzmann.
Salzmann said that both animals were released unharmed and video surveillance footage from a home security camera confirms his statement.
BEFORE YOU GO
PHOTO GALLERY
11 Of The Dumbest Criminals Ever (PHOTOS)