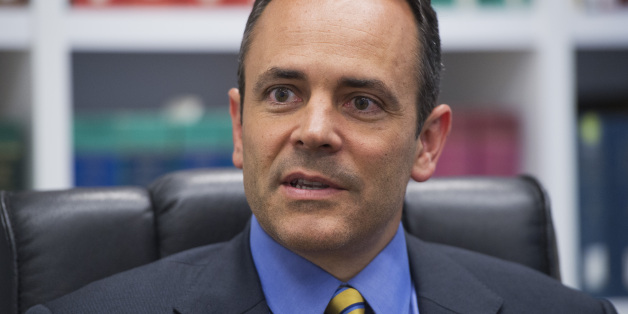 Nearly four months after announcing his intentions to run for U.S. Senate, Kentucky tea party Republican Matt Bevin made the paperwork official on Friday.
The Louisville Courier-Journal reported that Bevin submitted the necessary materials to the Secretary of State's office. He then gathered at the state capitol to speak on how he is the real conservative in the race over incumbent Sen. Mitch McConnell (R-Ky.)
"All this power and influence that is supposedly is harnessed by our senior senator, he seems to be the only one who is benefiting from this personal power and influence," Bevin said, according to the Courier Journal. "That has to end."
In a recent Q&A with the New York Times, Bevin laid out his conservative principles. When asked what his governing agenda was and how he could eclipse McConnell, the businessman set the path as follows.
"I'll listen to the people," he told the Times. "I will not put my party ahead of what the people want. I am a believer in smaller government, limited government, less regulation, less taxes, because I think to have more of those things we suffocate the entrepreneurial spirit of this nation."
The Senate Conservatives Fund, a PAC founded by former Sen. Jim DeMint (R-S.C.), is among Bevin's big-name supporters. The group endorsed him in mid-October as a "true conservative who will fight to stop the massive spending, bailouts, and debt that are destroying our country."
"We know that winning this primary won't be easy," Senate Conservatives Fund Director Matt Hoskins said in a statement. "Mitch McConnell has the support of the entire Washington establishment and he will do anything to hold on to power. But if people in Kentucky and all across the country rise up and demand something better, we're confident Matt Bevin can win this race."
McConnell's campaign quickly dismissed that endorsement at the time.
"Matt Bevin now has the dubious honor of standing with a self-serving D.C. fundraising group that made its name by recruiting and promoting unelectable candidates that ensured Barack Obama a majority in the Senate," said McConnell spokeswoman Allison Moore. "They clearly care less about Kentuckians than they do about their reputation for supporting laughably bad candidates."
BEFORE YOU GO
PHOTO GALLERY
Say Cheese! Mitch McConnell Smiles