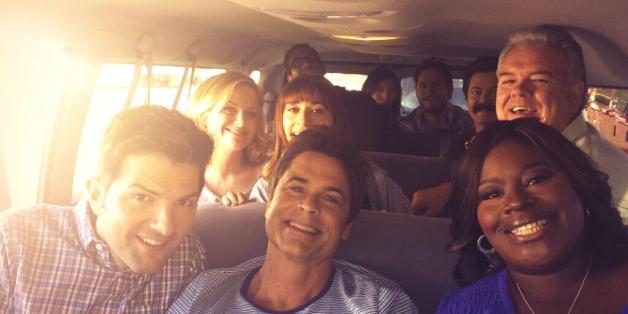 "Parks and Rec" is filming the last episode featuring Rob Lowe and Rashida Jones and there were plenty of emotional social media posts to mark the occasion. Literally everyone from the cast shared thoughts, photos and videos to mark Lowe's exit from the NBC comedy.
There was this mixed media post from Retta.
Jones shared this photo and sweet message.
My family. I will miss them too much. #ParksandRec #BestVanRideEver pic.twitter.com/bvBItQzXAk

— Rashida Jones (@iamrashidajones) November 15, 2013
Jim O'Heir, Jerry Larry on "Parks," shared a few posts and admitted to crying.
And that's a wrap on @RobLowe. Not ashamed to admit to a few tears. #awesomedude

— Jim O'Heir (@JimOHeir) November 14, 2013
Not happy on @Roblowe last day. #sadselfie pic.twitter.com/rQmidfYRbg

— Jim O'Heir (@JimOHeir) November 14, 2013
Lowe shared this sweet picture of him with Amy Poehler.
My lovely, talented friend. Thank you for everything. Will we cry? #Knope! pic.twitter.com/33DtSwrc86

— Rob Lowe (@RobLowe) November 14, 2013
Adam Scott shared this goofy photo.
TWO new #ParksandRec episodes tonight at 8 with these dummies
@RobLowe @evilhag pic.twitter.com/30wd7Gw176

— Adam Scott (@mradamscott) November 14, 2013
Lowe and Jones' last episode will air in February. Their characters are moving away to start a family. However, they'll probably be back, just not as series regulars. "Knowing our show, no one ever really leaves Pawnee -- we still call people back that did stuff in the first and second season, so, I'm certain that Rob and Rashida will make their way back to Pawnee as many times as we can drag them," Poehler told press at a recent event.
"Parks & Rec" airs Thursdays, 8 p.m. EST on NBC.
BEFORE YOU GO
PHOTO GALLERY
'Parks and Recreation'