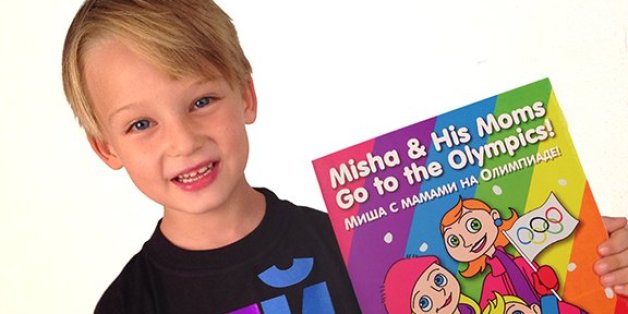 Lesbian, gay, bisexual and transgender (LGBT) clothing and accessory company FCKH8 is launching a new campaign that will send 10,000 Russian children pro-gay coloring books during the 2014 Sochi Winter Olympics.
Luke Montgomery, founder of FCKH8.com, told The Huffington Post that the inspiration for the campaign came from Russian officials seizing FCKH8 clothing from several Russian customers under the country's anti-gay "propaganda" law.
"Russia has made it a crime for any pro-gay words to be spoken and that law is about to be broken," Montgomery said. "The message of this coloring book is to let kids in Russia know that being gay is normal. Beating and imprisoning people just for being out of the closet, or arresting them for simply saying that it's OK if someone in their family is gay is an attack on human rights and a trashing of the Olympic spirit."
He went on to note, "We're going to be breaking this homophobic law and there's nothing the government can do to stop it."
Russia has come under international fire over the past several months since passing ambiguous anti-gay "propaganda" legislation. Following the passage of this bill, Russian lawmakers remained unclear about its impact on the upcoming 2014 Sochi Winter Olympics, having initially stated that athletes and attendees at the Games would be held accountable to the law's stipulations. The anti-gay "propaganda" legislation has also inspired attempts to pass bills that further marginalize LGBT people, such as removing the children of LGBT parents from their homes.
Check out a slideshow of images from the coloring book campaign below.
BEFORE YOU GO
PHOTO GALLERY
FCKH8 Russia Coloring Book Campaign