A woman in Kansas who put up a Craigslist ad last week offering wedding ring set in exchange for tickets to the Kansas City Chiefs home game against the Denver Broncos struck a deal this week. Ensuring it is a memorable transaction for both sides, the rings' taker didn't make the deal for just any reason -- he plans on proposing to his girlfriend.
Talk about a sweetheart deal.
"It's official! I have tickets to the game!!!" the woman wrote in an email to the Kansas City Star, the first to report on the trade.
Here's an image included in the , Craigslist posting (story continues below):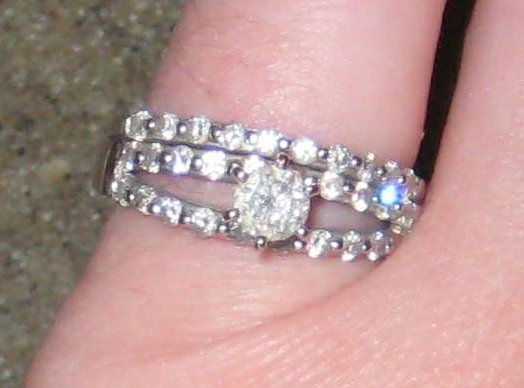 The trade didn't just land the unidentified woman Chiefs-Broncos tickets. She also got tickets for the Chiefs game against the San Diego Chargers on Nov. 24 due to the high appraised value of the rings.
The rings' taker, identified as 49-year-old Kansas City resident Rusty Jones, has been a Chiefs ticket holder for twenty years and said that he and his girlfriend have recently been talking about getting engagement rings, according to The Associated Press.
The seller, who was trading the rings for tickets to surprise her husband for his 40th birthday, admitted that the rings were from a previous marriage so she did not have any emotional connection to them, according to USA Today
"I have a diamond ring/wedding band set (appraised at $3,100) that I want to trade for KC Chiefs tickets," the unnamed woman posted on Craigslist last week. "Looking for tickets to the 12/1 Broncos game. Email me with offers." Craigslist has since taken down the ad.
The Chiefs' December home game against their rival caps off a brutal four-game stretch for the Broncos which began with their victory against the San Diego Chargers last weekend.
The Chiefs remain undefeated going into their first matchup against the Broncos in Denver Sunday, but the Broncos are an 8.5-point favorite, according to SB Nation.
Broncos coach John Fox, who is currently recovering from recent heart surgery, hopes to attend the Broncos home game against the Chiefs this Sunday in a "nonworking capacity" at Sports Authority Field at Mile High if his doctors approve, according to The Denver Post.
BEFORE YOU GO
PHOTO GALLERY
Best 2013 Sports Photos