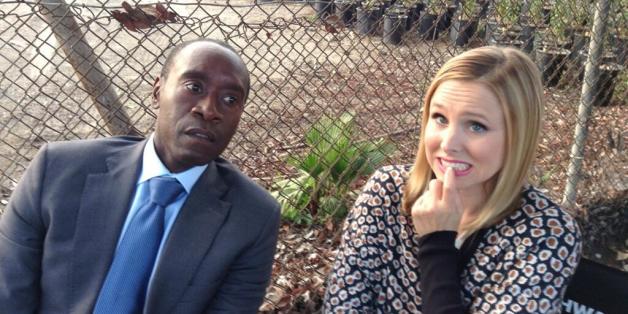 It was a frightening day for the cast of "House of Lies," after a shooting broke out in the middle of filming in South Central Los Angeles on Friday (Nov. 15).
Sources told TMZ the show drew a large crowd while filming on location at the Nickerson Gardens housing project -- including members of rival gangs. Cast members T.I., Don Cheadle and Kristen Bell had just finished filming a scene when an argument became heated and shots were fired.
Thankfully, no one was injured, according to the website, and cast members took to Twitter to assure fans they were not hurt -- even managing to keep things light, despite the scary incident.
Holy sh*t, I'm dead (TMZ)

— Don Cheadle (@IamDonCheadle) November 16, 2013
I am like 99% sure he's not dead…wait a min… #zombiedon @IamDonCheadle pic.twitter.com/JVLnmlICIN

— Kristen Bell (@IMKristenBell) November 16, 2013
@IMKristenBell Uh, I'll be the judge of that, kitty.

— Don Cheadle (@IamDonCheadle) November 16, 2013
BEFORE YOU GO
PHOTO GALLERY
Celebrity News & Photos