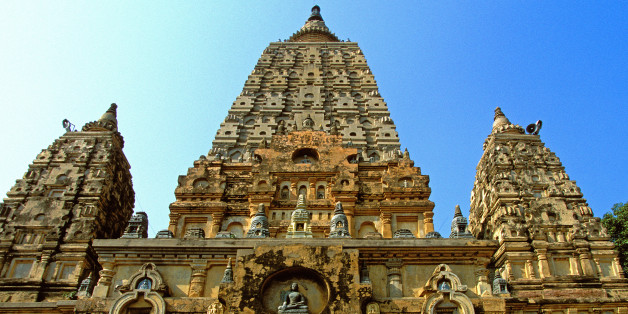 The Mahabodhi Temple at Bodh Gaya in Bihar, India, marks the spot where Buddha renounced material wealth along with emotions like anger and envy, according to author Thubten Samphel. Despite its spiritual significance, the King of Thailand, along with some others, has donated 660 pounds of gold to create a shiny new temple dome that will be inlaid with the precious metal.
Predictably, the plan has been criticized by Buddhist scholars and representatives of the Dalai Lama, who has specifically spoken out about renouncing material wealth and creating a legacy of good works rather than lavish buildings. In 2012, he gave away his £1.1 million Templeton prize money to charity, including £900,000 to Save the Children, reports The Telegraph.
Thubten Samdup, Representative of His Holiness the Dalai Lama for Northern Europe, summed it all up pretty well by saying, "A lot of people would like to see the whole temple covered in gold, but at the end of the day, seriously?"
The gold is currently being guarded by Thai commandos as the work to gold-plate the dome commences. It should take between 40 to 50 days to complete.
The Mahabodhi Temple is one of Buddhism's holiest pilgrimage sites. It marks the place where Lord Gautama achieved enlightenment as he sat beneath the bodhi tree.
It is a UNESCO World Heritage site that's currently being restored, although the initial plans weren't so lavish.
Samdup told the Telegraph about the Dalai Lama's thoughts on good works, commenting, "He said [for] those of us who are spiritual leaders, it's not enough to pray in our houses of prayer, we have to act, that's more important. He made very clear his feelings that we're too hung up on rituals and he does not see that as very important. It's very nice of the King of Thailand to give $14 million in gold. But knowing what I know about him [the Dalai Lama], that's not important because it's not going to help anyone."

BEFORE YOU GO
PHOTO GALLERY
Amazing Mosques