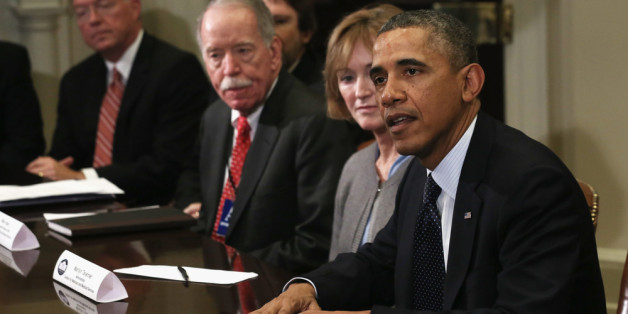 Pollsters and political scientists debate whether the ACA rollout is Obama's Katrina and what drives a rightward shift on health care. Yet another poll finds Americans hating on their leaders. And how to make 2016 speculation more ridiculous? Rob Ford. This is HuffPollster for Monday, November 18, 2013.
IS THE ACA OBAMA'S KATRINA? - Republican pollster Bill McInturff: "Hurricane Katrina is rightly remembered as a dividing point in the Bush presidency. The perception about the response to the hurricane damaged President Bush's ratings on the key attributes of strength and leadership and his ability to handle a crisis. With these dimensions weakened, the president's personal and job approval ratings eroded – as did the likelihood of people supporting a Republican Congress....The history is not yet written for President Obama's second term, but the president is facing perilous numbers. When a president's ratings drop on core attributes like honesty and leadership, the underpinnings of their personal and job approval ratings are in significant jeopardy. Indeed, we are watching now as multiple surveys show the president's job approval ratings dropping below 40%...Once unleashed, these negative sentiments are difficult to reverse and correct, but this is consistent with the past experience of other presidents whose presidencies have absorbed this type of consequential – and negative – event." [POS]
Not Obama's first 'Katrina moment' - In an email to HuffPollster, political Alan Abramowitz disagrees: "This is not the first time we've seen a problem for Obama described as his 'Katrina moment.' This also happened during the Gulf oil spill. It wasn't a very good analogy then and it's an even worse analogy now. Moreover, it isn't even clear that Katrina actually had a significant negative effect on George Bush's approval rating….So Hurricane Katrina may not even have been George Bush's 'Katrina moment.' In fact, there probably was no single event that led to Bush's decline in popularity during his second term. It was a result of gradual disillusionment with Bush's policies, especially his conduct of the Iraq war. Something analogous could be happening to Obama over his handling of healthcare reform but it's really too soon to make that judgment. After, all Obama's approval rating has only fallen about 5 points in the past couple of months. So we'll have to see what happens over the next couple of months and that may well depend on whether the administration can get the healthcare website working." [Abramowitz on Gulf spill]
GOVERNMENT STILL CONSIDERED TERRIBLE, POLL FINDS - Ron Brownstein: "The bottom has fallen out for everyone in the nation's political leadership. That's the message from the latest Allstate/National Journal Heartland Monitor Poll, which shows that after a government shutdown, near-default on the federal debt, the calamitous debut of President Obama's health care plan, and continued sluggishness in the economy, Americans aren't feeling much holiday cheer about the country's direction or anyone setting it. Just 38 percent of those polled said they approved of Obama's job performance, with 55 percent disapproving. That's the lowest approval, and highest disapproval, the Heartland Monitor poll has recorded for Obama in the 19 times it has measured his standing since April 2009. The latest numbers continue a slide for Obama that had taken his approval rating from 54 percent immediately after his reelection last November to 40 percent in September. Americans are even more dubious about Congress. Just 9 percent of those polled (down from 21 percent last November) approved of its performance. Fully 84 percent disapproved. Almost nine-in--10 of those who disapproved of Obama's performance also gave Congress a thumbs-down; 56 percent of those who disapproved of Congress also flunked Obama." [National Journal]
FEWER THINK GOVERNMENT HAS A RESPONSIBILITY TO PROVIDE HEALTH CARE - Joy Wilke: "The 56% of U.S. adults who now say it is not the federal government's responsibility to make sure all Americans have healthcare coverage continues to reflect a record high. Prior to 2009, a clear majority of Americans consistently had said the government should take responsibility for ensuring that all Americans have healthcare….Attitudes across all three partisan groups have shifted away from the view that ensuring healthcare coverage is a proper role of government, but most significantly among Republicans and independents. In September 2000, 53% of Republicans believed the government should not be responsible for ensuring all Americans had health coverage; today, 86% feel that way, an increase of 33 percentage points in 13 years. Over the same period, the percentage of Republicans believing the government should ensure healthcare coverage for all has fallen from 42% to 12%."
[Gallup]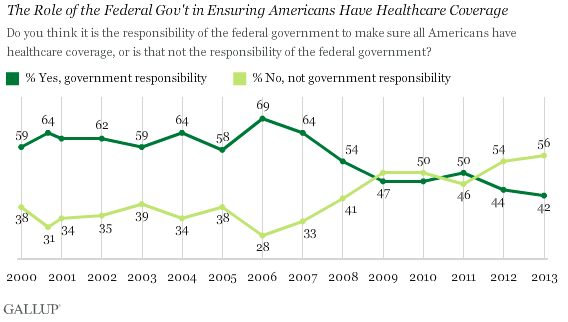 'Thermostatic public opinion' - Via Twitter, political scientist John Sides labeled the new Gallup results as an example of "thermostatic public opinion at work," linking to a September blog post by political scientist Larry Bartels: "The ups and downs in [James] Stimson's measure over the past 60 years suggest that partisan turnover in presidential elections is more often a cause of opinion change than a consequence of opinion change The marked conservative shift under Democrat Barack Obama is by no means unusual; the country also moved sharply to the right under Bill Clinton (before the Republican takeover of Congress in 1994) and Jimmy Carter. Conversely, public opinion moved sharply to the left under Republican presidents Dwight Eisenhower and Ronald Reagan. Indeed, from the standpoint of public opinion, the 'Reagan era' had already passed its high water mark by the time its namesake was inaugurated.
As Christopher Wlezien (gated) nicely put it, the public tends to act as a 'thermostat,' shifting to the left when the political climate in Washington shifts to the right and to the right when policy shifts to the left. In the past four years, the thermostat has been trending significantly rightward." [WaPost's Monkey Cage, @MonkeyCageBlog]
SHARED WITHOUT FURTHER COMMENT - The Daily Beast's Ben Jacobs: "Counting the days until @ppppolls polls on Rob Ford in Iowa." [@BenCJacobs]
HUFFPOLLSTER VIA EMAIL! - You can receive this daily update every weekday via email! Just enter your email address in the box on the upper right corner of this page, and click "sign up." That's all there is to it (and you can unsubscribe anytime).
MONDAY'S 'OUTLIERS' - Links to more news at the intersection of polling, politics and political data:
-New York Gov. Andrew Cuomo (D) has a wide lead against potential rivals. [Siena]
-Democrats and Republicans are far apart on how history will judge Presidents Barack Obama and George W. Bush. [Gallup]
-Lyndon Johnson tops the list of the most narcissistic presidents. [Pew Research]
-Bill McInturff compares Hurricane Katrina and Obamacare. [POS
-The San Diego mayoral race looks likely to go to a runoff. SurveyUSA]
-More Texans are fans of Aggies than Longhorns. [Chronicle]
-Dishonest students are more attracted to public service. [NBER via @RichMorin]
BEFORE YOU GO
PHOTO GALLERY
Politicians Who Look Like Disney Characters