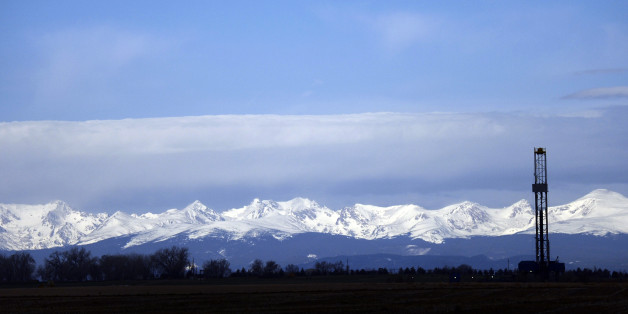 After much debate and speculation, Colorado regulators proposed new air quality rules for the state's booming oil and gas industry on Monday, including the nation's first statewide standards for methane emissions from drilling.
The Associated Press highlights that the proposed rules will not require more inspections at drilling sites. Instead, a $30 million dollar monitoring system of infrared cameras will be installed at drilling sites to speed detection of leaks.
The rules seek the reduction of not just methane releases, but also other "volatile organic compounds" and "air toxics," explained Colorado Department of Public Health and Environment spokesperson Will Allison, reported the Denver Post.
Colorado's Gov. John Hickenlooper (D), a vocal supporter of the oil and gas industry in the state, said the proposed rules, "are going to amount to the very best air quality regulations in the country."
Read the proposed air quality rules here.
There are more than 51,000 drill sites operating in Colorado and in the last four years the state has failed to meet federal ozone standards.
According to the American Lung Association's 2013 "State of the Air" report, four counties in Colorado -- Arapahoe, Douglas, Jefferson and Larimer -- all received "F" grades. An "F" is given to a region when it spends nine or more days per year over the national air quality standard for particulate matter and includes at least one or more day with unhealthy, very unhealthy or hazardous air. Boulder, La Plata and Weld counties all received "D" grades, which means seven to nine days exceeded the air quality standard in a region.
All of those counties are counted among some of the most densely drilled areas in the state.
Smog and ozone levels have been rising in Colorado since 2010, the Denver Post recently reported, with several areas in the state exceeding the federal ozone limit of 75 parts per billion.
A group of activists calling themselves Colorado Moms Know Best have been vocal critics of early leaked drafts of the air quality regulations for the oil and gas industry in the state, but have reacted positively to the regulations on Twitter:
Like what we see so far w/@hickforCO new air pollution safeguards. Hope they stay strong until done. #UpInTheAir #COpolitics #oilgas

— CO Moms Know Best (@COMomsKnowBest) November 18, 2013
The group made headlines in October when they showed up at Hickenlooper's office with dolls they called "Gas Patch Kids" along with a petition signed by more than 8,000 Colorado moms calling for "common sense yet innovative standards to control oil and gas emissions, which can harm kids' health."
Conservation Colorado Executive Director Pete Maysmith said that his organization is "greatly encouraged" by the proposed rules, especially with regards to methane emissions, which Maysmith describes as a "potent, damaging greenhouse gas."
"The proposed rule is a strong step forward to capture emissions from oil and gas facilities of harmful air pollutants that hurt all Coloradans," Maysmith said.
Environmentalists around the state have voiced disapproval of Hickenlooper's support for the oil and gas industry, especially the extraction technique known as hydraulic fracturing, or "fracking."
Hickenlooper said that the state would sue any city in Colorado that bans fracking and the state entered into a lawsuit with the city of Longmont over their fracking ban earlier this year.
The Colorado governor has also admitted to drinking fracking fluid.
"You can drink it. We did drink it around the table, almost ritual-like, in a funny way," Hickenlooper said before the U.S. Senate Committee on Energy and Natural Resources in February.
The governor testified that it wasn't "tasty" but added, "I'm still alive."
Last year when Hickenlooper was invited to give the keynote address at The Atlantic's Next Generation Energy Forum, he vigorously defended the practice and even went so far as to say that the anxiety about fracking "isn't directly connected to the facts."
"There's a lot of anxiety out there, certainly with hydraulic fracturing and the kind of unorthodox technologies for the extraction of natural gas, but oftentimes that anxiety isn't directly connected to facts," Hickenlooper said during the forum.
Hyrdaulic fracturing is a controversial process of injecting water, sand, and chemicals underground at very high pressures to release natural gas. Most companies have declined to reveal what components make up their fracking fluids, calling them "trade secrets."
Colorado's Air Quality Control Commission are expected to make the rules final in February of 2014.
BEFORE YOU GO
PHOTO GALLERY
Drilling And Fracking Photos