The U.S. stock market reached several very important round numbers on Monday, and experts suggested that reaching these round numbers could mean that the stock market will reach other, larger round numbers in the near future.
These same experts suggest you ignore the fact that these round numbers have almost no meaning for your own particular individual life and keep your focus on the round numbers themselves, because they are round, and also larger than previous round numbers the market has reached. (Story continues after chart demonstrating how little the stock market matters to your life.)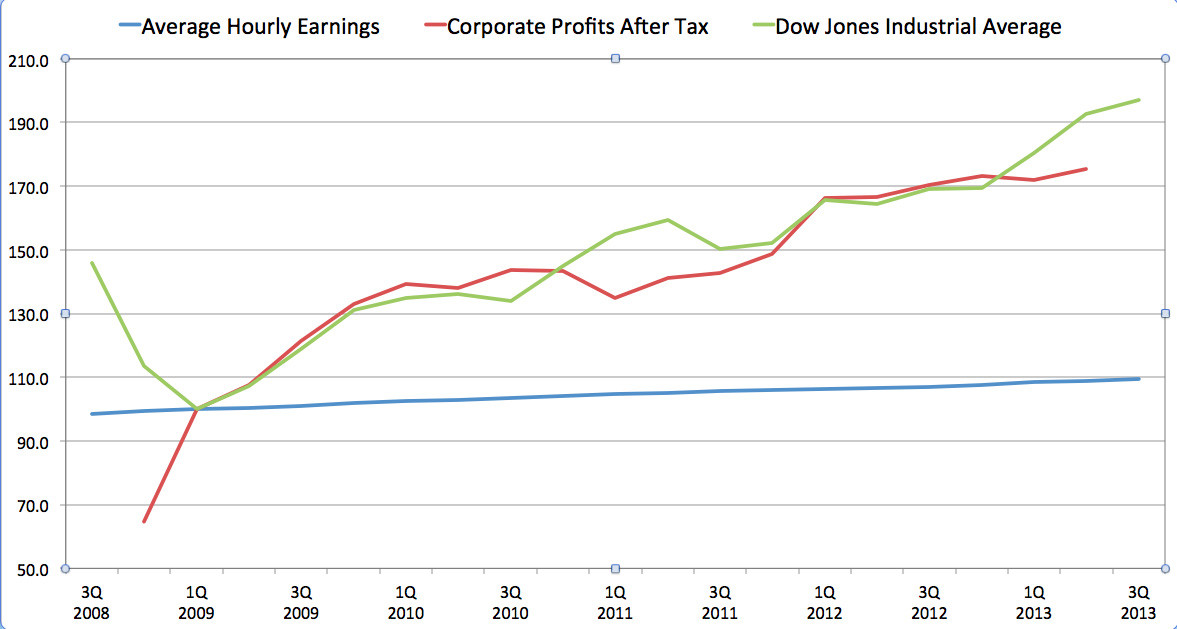 The Dow Jones Industrial Average, a stupendously important stock-market indicator that tracks 30 U.S. companies, on Monday reached the round number of 16,000 for the first time in its long history. This was quite a bit larger than the round number of 15,000, which the Dow first reached in May.
Separately, the also-important but less-famous Standard & Poor's 500-stock index reached the round number of 1,800 for the first time in its history. And the technology-heavy Nasdaq Composite index reached 4,000 for the first time in 13 years.
Why is this happening, you might be asking, if you are one of the 62 percent of Americans who think the economy is getting worse. It is partly due to the Federal Reserve pumping cash directly into markets to keep the economy from teetering back into a recession. It is also partly due to the fact that President Obama has been the least-effective socialist dictator in history, overseeing record highs in corporate profits while wages stagnate, as the chart above shows, widening income inequality in what has been a bitterly uneven economic recovery. (Note: All the data in the chart are indexed to equal 100 in March 2009.)
Again, though, never mind all that: The important thing is that these numbers could be a sign that the stock market -- despite having been in a bull market for nearly five years and having doubled in value since March 2009 -- could go higher still.
"Milestones like today's (16k Dow, 1800 S&P, 4K NAS) have tended to bring in more money from sidelines rather than signal a top," tweeted Jeffrey Kleintop, chief market strategist at LPL Financial, a Boston brokerage firm. "Money from the sidelines" is a Wall Street cliche meaning investors who have been sitting on cash will now buy stocks because everybody else is buying them and they don't want to be left behind.
That is great news for your 401(k), assuming you are one of the less than 50 percent of Americans who has a 401(k) and assuming your mutual-fund manager is not eating away at your 401(k) with unnecessary fees.
But anyway, round numbers! Dow 36,000, here we come!

BEFORE YOU GO
PHOTO GALLERY
12 Amazing Inventions Created Entirely By Accident