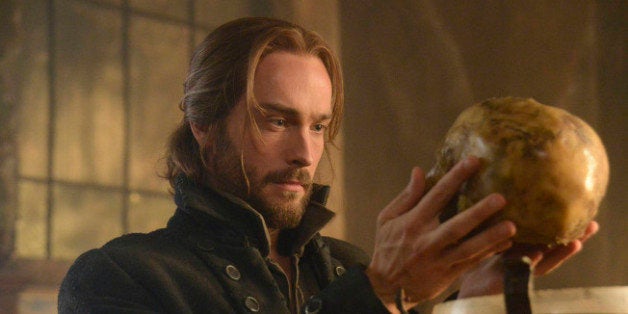 It looks like "Sleepy Hollow" fans will be getting the answers they've been waiting for as Season 1 comes to a close.
The Headless Horseman is one of the main villains in "Sleepy Hollow," but aside from his connection with Ichabod Crane (Tom Mison), and being one of the Four Horsemen of the Apocalypse (long story), viewers don't know much about him. That will all change according to executive producer Alex Kurtzman. "[Headless] may have been a man. He may have been tempted by something, something we might all be tempted by," he said. "That tricky Moloch, he always promises you the thing that no one else can give you, but the question is: What's the price tag associated with it?"
"Sleepy Hollow" will also dive into the past of other main characters as well. Katia Winter, who plays Ichabod's wife, Katrina spoke to E! Online about what's in store for her character who has been trapped in an afterlife limbo for most of the season. "I was so excited for people to see the bond between her and Ichabod, how strong it is, and there's going to be more of that in the episodes coming up," she said. "You're going to understand a lot more and her ties into the war that's going on right now between good and evil. [Episodes] seven and eight are going to be quite big."
It also sounds as if viewers will see Ichabod's life before he switched sides to fight for the colonies in the Revolutionary War. "We're going to find out more about his history with Katrina [Katia Winter], about his friends, what he gave up back home and what his life was like before he was shipped off to the colonies," Kurtzman told TV Guide.
The creator of "Sleepy Hollow," Phillip Iscove reassured fans of the show that it would get crazier as the show gallops toward the season finale. "We're breaking the last couple episodes of our season right now and it is epic and crazy and fun," Iscovet told Grantland. "We are taking big swings over here and we're having fun doing it."
"Sleepy Hollow" airs Mondays at 9 p.m. EST on Fox.

BEFORE YOU GO
PHOTO GALLERY
Fox New Shows 2013-2014