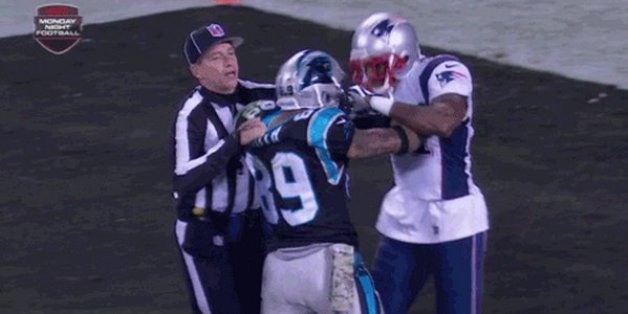 Panthers receiver Steve Smith and Patriots cornerback Aqib Talib just could not get along during the first quarter of their "Monday Night Football" game.
The two went at it after two different plays during Carolina's second possession of the game. The first altercation came after a five-yard catch by Smith that gave Carolina a first down. Talib hung onto Smith's leg after the whistle, which led to a scuffle and the two needed to be separated. Talib was flagged for unnecessary roughness.
(GIF via @SBNationGIF)
The second altercation came after a play they weren't even involved in. Panthers quarterback Cam Neton threw an incomplete pass to the opposite side of where Smith and Talib were positioned. Still, they went after each other again.
(GIF via @BuzzFeedSports)
UPDATE: Smith and the Panthers went on to beat the Patriots 24-20. As he made his way off the field, Smith was asked what happened between him and Talib.
(Video via willbrinson)
BEFORE YOU GO
PHOTO GALLERY
Best 2013 Sports Photos