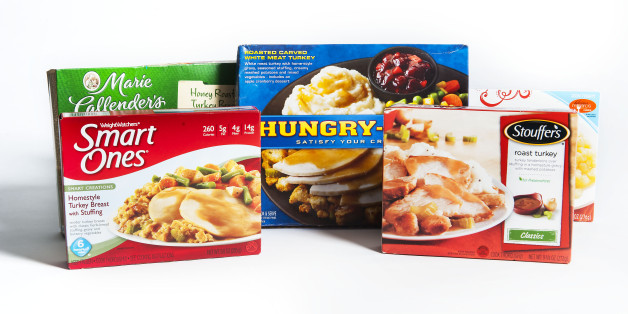 We're all about the homemade Thanksgiving meal here at HuffPost Taste. We've taught you how to cook the perfect turkey, plan the perfect meal, and be the perfect hostess. But sometimes, all you end up with is the perfect storm -- you forget to defrost your turkey, your oven fails to turn on, or the fire department ends up spending some quality time at your house.
Because emergencies happen to the best of us, we all need a Plan B on Thanksgiving Day. We refuse to order takeout, because Chinese food and pizza will only dampen your soul after spending the entire month of November lusting after turkey and stuffing. So what's the best way to get your turkey fix on the quick and easy? The TV dinner.
Frozen Thanksgiving-style meals exist -- and before this taste test, that's about all we could say for them. But now we've tasted five popular brands, and we can say without hesitation that … well, they should still be your Plan B. But will they satisfy your craving for turkey and mashed potatoes? Absolutely -- but only if you buy the right one.
Check out the results of our taste test below to find out which brands to buy and which ones to leave in the freezer case.
As always, this taste test was in no way influenced or sponsored by the brands included.
PHOTO GALLERY
Turkey TV Dinner Taste Test, 2013
BEFORE YOU GO
PHOTO GALLERY
Turkey Recipes