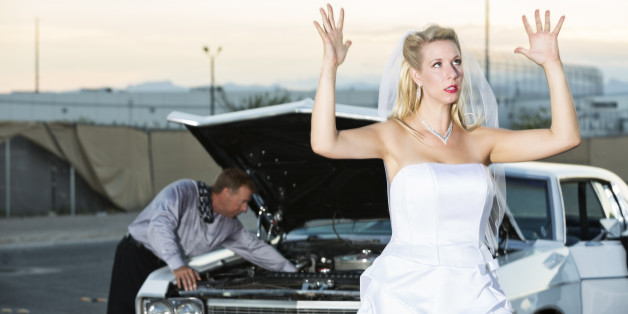 Everyone knows that weddings can be chock-full of unexpected mishaps -- some funny, some downright horrible -- which is why we were intrigued when Reddit user lordt posted the following question Sunday: "Wedding photographers, what is the biggest wedding drama you've ever witnessed?"
The Big Day pros didn't hold back in their responses: from brides getting trapped in an elevator to all the gifts being stolen by a costume-savvy criminal, these guys certainly have seen it all.
From user x8BitRain:
The bride tripped over her own $3,000 dress, ripping it, face-planting, breaking her front teeth and falling into a pool 10 feet below. The wedding was held again a few months later PROPERLY.
From user Photofilmuser:
Between the ceremony and the reception, the bridal party got completely wasted and out of control. When they arrived at the reception, one of the groomsmen (brother of the bride, I think) went crazy and the cops were called. He ended up biting the cop. We didn't take pictures of this, at the bride's request.
From user ZadocPaet:
Instead of a cake, they had this really awesome cupcake stand with skulls and stuff; all different flavors. As the groom was writing me my check (and this is before the wedding), I told him how awesome I thought the cake/cupcake idea was. The bride was standing right there. She didn't know. I spoiled a wedding surprise.
From user PoppaRocket:
I was doing video for a wedding where a man impersonating the head of security for the hotel ran off with all of the gifts.
From user buddadabaptist:
My mother is a wedding photographer in Florida. She often does weddings on the water in these huge four-story homes and a few of them have elevators. For one wedding, she was asked to take pictures of the bride all the way up until the ceremony, so she was doing as asked and got in the elevator to head down. Then, the elevator breaks. She felt really bad for the bride, who was supposedly really sweet and even apologized profusely for the mishap. Unfortunately, her good intentions didn't get them out of the elevator -- the technician did four hours later.
Want even more crazy stories? Check out the slideshow below to see readers' top 15 wedding disaster tales, then share your own nuptial fails in the comment section below.
PHOTO GALLERY
#weddingdisasters
Keep in touch! Check out HuffPost Weddings on Facebook, Twitter and Pinterest.