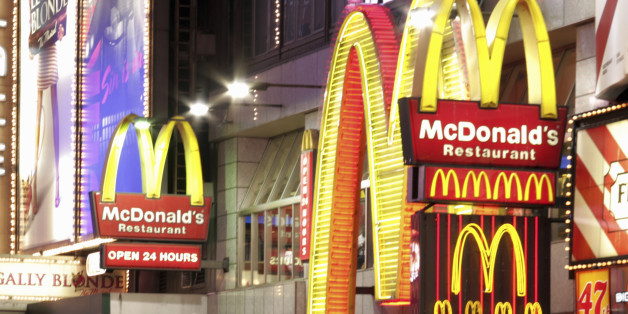 Two men are claiming they were denied service at a New York City McDonald's becuase the cashier thought they were gay. They have now filed suit over a bizarre incident that supposedly left them "severely humiliated, mentally anguished and emotionally and physically distressed."
Willis Washington Jr. and Horace Stevenson III claimed the homophobic encounter went down last December at a McDonald's in the Manhattan neighborhood of Hamilton Heights when another customer reportedly "started to say he had a problem with gay people and that the gay lifestyle was not what God wants," the lawsuit states, according to the New York Post.
The two were then allegedly refused service by the cashier before other customers reportedly began to push Washington and Stevenson toward the back of the store, prompting Stevenson to call 911 before the cashier "actually handed one of the customers a metal pipe from behind the counter and motioned to him that he should hit plaintiffs with it," the lawsuit reads, per the Post.
The men ran out and returned when the police arrived, only to be placed in handcuffs and purportedly blamed for the encounter, the Post reported. They are now suing The Colley Group, which owns the franchise, for unspecified damages.
The Colley Group responded to The Huffington Post's request for comment Tuesday in an email through a McDonald's media representative.
"As a business leader, the behavior that is alleged in this case is absolutely inconsistent with our values and would not be acceptable or tolerated in our restaurant," the statement read. "We have not been made aware of any inappropriate behavior by our employees as has been suggested, but we are actively investigating this matter."
This is not the first time employees of the hamburger establishment have been accused of homophobia. In May, an employee of a New Zealand McDonald's claimed he was harassed by management for being "too gay." One of his managers supposedly told him, "If you turn anyone else in the store gay, I will punish you and make you lose your job."
BEFORE YOU GO
PHOTO GALLERY
25 LGBT-Friendly Products & Companies Targeted By Boycotters