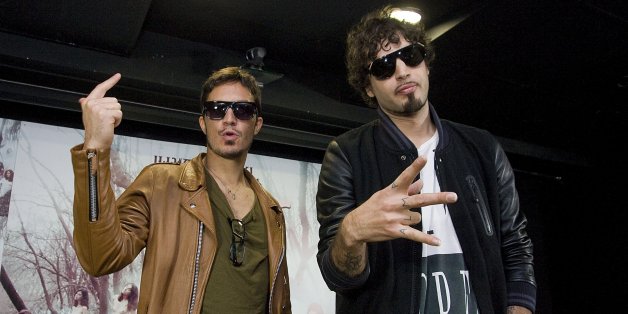 After a 10-year break, the musical duo Illya Kuryaki and the Valderramas (IKV) make a strong comeback in the music industry by being among the most nominated at the 14th Annual Latin Grammy Awards with five nominations and one for their producer.
5 nominaciones Latin Grammys!!! CHANCES!!! Gracias!! @LatinGRAMMYs

— IKV (@ikvoficial) September 25, 2013
Formed in 1991, Illya Kuryaki and the Valderramas is composed by Dante Spinetta and Emmanuel Horvilleur from Buenos Aires, Argentina. They are best known for their extreme wide-ranging music style, fusing sounds like funk, hip-hop, rock and electronic.
After producing multiple albums, including a MTV Unplugged, the duo decided to split in 2001 to follow solo careers. In 2003, after completely vanishing from the music world, they released an EP.
"Missing in action" for nearly a decade, Illya Kuryaki and the Valderramas, with the help of producer Rafael Arcaute, debut "Chances" under Sony Music record label in 2012. In a recent interview with Alborde, Emmanuel Horvilleur said, "after 10 years of both of us doing our thing, we began to talk about recreating the old sounds and we were in the studio for about a year."
The release of their seventh studio album marked the beginning of a successful comeback for IKV. After touring in Latin America, Dante and Emmanuel end the year with six nominations in the 2013 Latin Grammy Awards.
Among the most 2013 Latin Grammy nominees
IKV is one of the most nominated artists at this year's ceremony, joining Carlos Vives and Javier Garza.
Their work in "Chances" earned them honorable mention by The Latin Recording Academy in six Latin Grammy award categories, including the newly added category for Best Urban Performance with their song "Amor."
In addition, Illya Kuryaki and the Valderramas landed nominations for Best Urban Song for "Ula Ula," Best Alternative Music Album, Best Alternative Song for "Monta el Trueno" and Best Short Music Video for "Ula Ula." The sixth nomination goes to Rafa Arcaute for "Producer of the Year."
The funk and rap duo are in the competition with artists like Café Tacvba, Natalia Lafourcade, Mala Rodriguez, Elvis Crespo, Alex Cuba and Pitbull, among other reputed artists in the Latin music industry.
Winners will be announced at the 14th annual Latin Grammy Awards in a live broadcast by Univision on Thursday, November 21st at 8 p.m. ET.
Originally published on VOXXI as Illya Kuryaki and the Valderramas make a triumphant return to music
BEFORE YOU GO
PHOTO GALLERY
Latin Grammys 2013: Rehearsals