Jonathan Byler Dann's home was among the 400 lost to the tornado that ravaged Washington, Ill., on Sunday, but a discovery yesterday made for a beautiful silver lining.
Maggie, Byler Dann's 11-year-old dog who was thought to have perished during the disaster, was discovered alive in the rubble of his home.
Story continues below.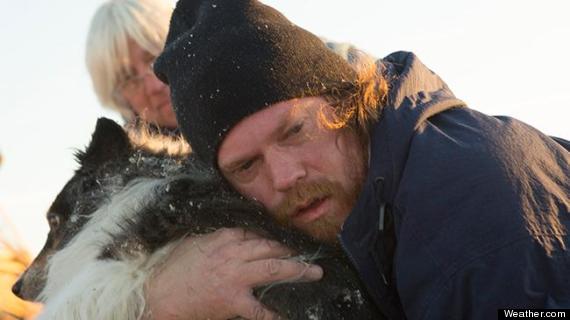 The father of four had attempted to shelter Maggie along with his wife and kids in their basement, but the frightened pooch wouldn't leave her kennel, according to Weather.com's exclusive story. When the family finally surfaced, Byler Dann feared the worst for Maggie -- but after digging through the remains of the building the next day, he found her injured but in stable condition beneath the debris.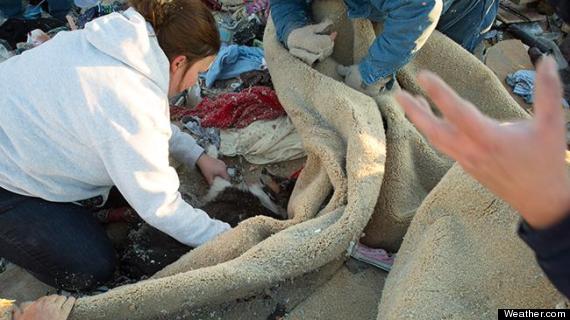 Byler Dann commented on a photo of Maggie posted to his Facebook page last night:
Maggie is ok. She has a dislocated hip and is under sedation tonight. She was rolled up in a carpet that was from a different floor of our house than she was on. There was a lot of debris on top and a huge piece of [masonry]. So glad she is still with us!
But the happy ending doesn't end there. Hours after photos of Byler Dann and Maggie were posted to Reddit, the online community began to pitch in to cover her medical expenses.
"A dislocated hip is pretty expensive to fix (like $1000). Does he need help with funds?" user Tryptophanatic asked. The Redditor, who appears to have been in contact with Byler Dann and his family, set up a fundraiser, and money began pouring in.
The donations quickly met and exceeded Maggie's costs, and the remaining funds are now being used to help other animals at the clinic where she was treated and at shelters in the affected area.
A Facebook page called 'Illinois Tornado Animals Lost & Found' is helping survivors locate their missing pets.
See heartwarming photos of Byler Dann's reunion with Maggie at Weather.com, and find out how you can help families affected by the tornadoes here.
H/T: Reddit
BEFORE YOU GO
PHOTO GALLERY
Hurricane Sandy Animals Rescues