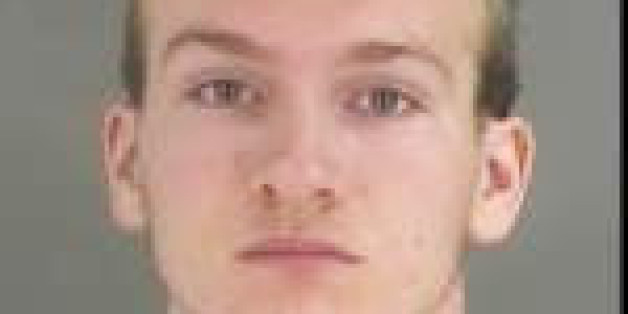 A 21-year-old Transportation Security Administration employee who allegedly shot and killed his father Sunday evening is expected to seek bond next week.
As his mother and younger brother looked on, Michael A. Luedecke stared blankly into a Henrico County courtroom Monday morning and acknowledged his identity during a video arraignment just hours after he allegedly killed his father.
"My son is innocent," Tammy Luedecke told reporters Monday as she left the courthouse with family members and at least three people who said they worked with Michael Luedecke as TSA agents at Richmond International Airport.
The group of supporters, some in tears, declined further comment, but Tammy Luedecke said in court that the family has retained longtime defense lawyer Jeffrey Oppleman to represent her son and is requesting a bond hearing.
The hearing is tentatively set for Nov. 25. Oppleman did not return messages asking for comment.
Henrico police said they responded shortly after 8 p.m. to a call for service in the 8800 block of Midway Road, which is off Parham Road south of Patterson Avenue near Regency Square mall.
"Detectives' investigation revealed Michael Andrew Luedecke shot his father after the two were involved in a verbal argument that escalated," police said in a statement, declining additional information about what may have preceded the argument.
Police found Jeffrey Michael Luedecke, 51, inside the home, dead from a gunshot wound. A search warrant in the case was sealed, and police declined to say if Michael Luedecke acknowledged shooting his father or to provide details about where he was arrested.
Arrest documents show that Michael Luedecke was arrested shortly before 2 a.m. Monday and is charged with murder and use of a firearm in commission of a felony.
Police declined to say what precipitated the argument, describe the weapon or say who owned the firearm.
The TSA declined to say how long Luedecke, who stands 5 feet 9 inches tall and weighs 147 pounds, had worked for the agency.
Jeffrey Luedecke is listed as the operator of C&J Handyman Services in online postings, but it was not clear if the company was still operating.
Luedecke and his wife purchased their one-story home, now assessed at $133,000, in April 1993, a year after Michael's birth. The couple also has a younger son.
Court documents in Henrico show that Luedecke, his wife, and Michael Luedecke all sued a neighbor over a pit bull that the three alleged was barking continuously and disturbing the family.
In a separate criminal complaint, Jeffrey Luedecke alleged that the dog was interrupting the sleep of an unidentified son who worked nights. The defendant in the case could not be reached for comment, but a witness in the criminal case, which has not been fully resolved, said Monday that Jeffrey Luedecke had a history of minor altercations with neighbors over noise and speeding complaints.
A final order in the civil suit was entered in June perpetually enjoining and restraining the owner "from keeping or boarding, for any length of time, the male pit bull dog mix named 'Christian.' "
bmckelway@timesdispatch.com
(804) 649-6601 ___