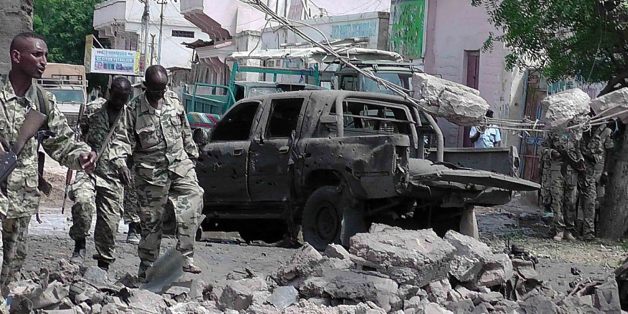 CAIRO –- On Tuesday morning, two suspected suicide bombers targeted the Iranian embassy in Lebanon's capital, Beirut. At least two dozen people have been confirmed dead, with more than 150 wounded. The Abdullah Azzam Brigades, an al Qaeda-affiliated Sunni militant group, claimed responsibility for the attack.
But another al Qaeda-linked suicide attack detonated Tuesday morning several countries away, one that won't make as many headlines.
In the Somali town of Baladweyne, close to the Ethiopian border, fighters loyal to al-Shabab, an extremist militant Islamist group and al Qaeda offshoot that controls parts of Somalia, blew up the gates of a police station with a car bomb and attacked the African Union soldiers inside. At least 21 people are dead, Bloomberg Businessweek reported, citing a police official. The U.N. Assistance Mission in Somalia (UNSOM) is now working to medevac the wounded, spokesman Ben Parker told The Huffington Post.
Just last week, the United Nations Security Council approved 4,400 more African Union Soldiers to bolster a now 22,126 fighting force in Somalia. Yesterday, the African Union Mission in Somalia (AMISOM) announced it may recharge its assault on the militant group. "I'm very confident that with 4,000 new troops, AMISOM will definitely consider a new offensive," Brigadier Dick Olum, a Ugandan military commander leading an AMISOM sector deployed in Somalia, told Reuters on Monday. "We shall not be referred to as sitting ducks any more."
In an interview with Al-Jazeera, an al-Shabab spokesperson said the group's fighters now control the base and soldiers who are part of AMISOM were the main target. "We have killed many of them," he said.
The United States labeled al-Shabab as a terrorist organization in 2008, and suspected U.S. drone strikes on the militant group's members have recently been reported.
In the areas the militant group still controls, harshly imposed and strictly interpreted Shariah law prohibits actions they deem anti-Islam, including listening to music, using smartphones, and shaving beards. Al-Shabab has been accused of recruiting children to fight in its ranks. There are around 1.4 million internally displaced people in Somalia as a result of the unrest.
Nick Kay, the United Nations Special Representative of the Secretary-General for Somalia, tweeted this morning in response to the attack, saying: "Horrific and pointless attack in Beletweyne. Contemptible. Deep sympathy for the victims."
In the past few years, African Union efforts to quell al-Shabab militancy have suppressed the group's control. A year ago, the militant group was pushed out of Baladweyne, but in recent months, the area has been rocked by deadly attacks. In October, over a dozen people died when an al-Shabab suicide bomber blew up a café in the town, where both local and foreign soldiers often hang out.
Al-Shabab also claimed responsibility for the brutal attack on neighboring Kenya's Westgate shopping mall in Nairobi, when gunmen shot and killed dozens of civilians and Kenyan soldiers in September. The militant group claimed the mass shooting was in response to Kenya's troop presence in Somalia.
In the wake of today's attack, AMISOM has a big job at hand. Last week's U.N. Security Council resolution stressed the urgency of the situation, warning that recent ground made against the militant group actually has the potential of "being reversed."