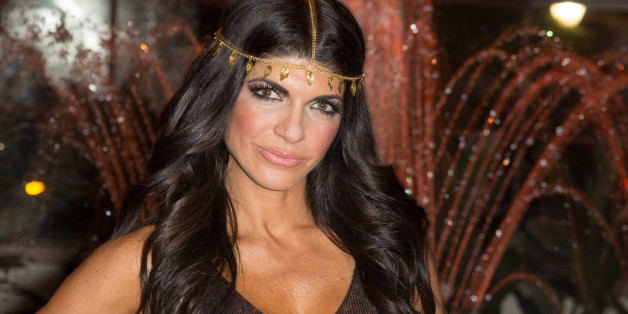 "Real Housewives of New Jersey" star Teresa Giudice is set to plead not guilty to new fraud charges relating to bank and loan application fraud.
Teresa and her husband, Joe Giudice, were indicted Monday (Nov. 18) on one count of bank fraud and one count of loan application fraud, the Associated Press reported. These two additional counts follow the 39-count indictment filed against them back in July.
Authorities allege Teresa lied about having a job and earning a salary of $15,000 per month (or $180,000 per year) on a loan application, the AP reported. Apparently, Teresa claimed she was working as a realtor when she received a $361,250 mortgage loan in July 2005, authorities said, per NJ.com. She was actually unemployed at the time.
Court documents obtained by RadarOnline.com state Teresa and Joe "did knowingly and intentionally conspire and agree with each other and others to devise a scheme and artifice to defraud Lenders and to obtain money from the Lenders by means of materially false and fraudulent pretenses, representations, and promises."
The 41-year-old plans to plead not guilty.
"As she did with respect to the allegations contained in the original indictment, Teresa intends to plead 'not guilty' to the allegations in the new indictment," her lawyer, Henry E. Klingeman, told People magazine. "She looks forward to defending herself at the trial, scheduled for February 24, 2014. Beyond that, we will answer all of the charges in court, not out."
The original indictment filed on July 29 details alleged bank and bankruptcy fraud committed between 2001 and 2009 by the Towaco, N.J., residents. They reportedly lied about their assets to secure loans between 2001 and 2008. Then, in 2009, they supposedly hid their assets during a Chapter 7 bankruptcy petition. Joe is also accused of failing to file tax returns from 2004 to 2008.
Teresa seemed to downplay their issues earlier this month during an interview with InTouch magazine.
"Look -- every family has problems. Nobody's perfect," she said. "I have to be strong for my kids ... You've got to keep living life and being positive. You can't just curl up in a ball and crawl into a hole."
The couple faces up to 50 years in prison and millions of dollars in fines. They are due back in Newark court Wednesday (Nov. 20).
BEFORE YOU GO
PHOTO GALLERY
Celebrity News & Photos