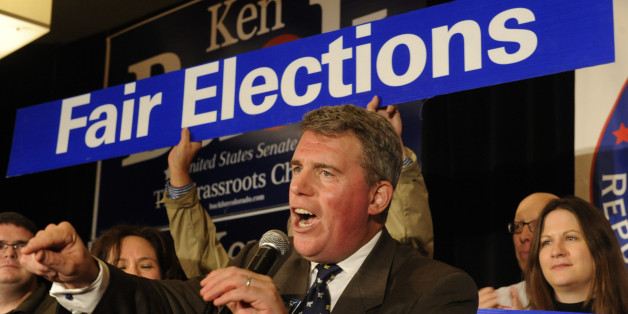 Colorado's Republican Secretary of State Scott Gessler has been on the hunt for voter fraud in the state since he took the office in 2011, claiming non-citizens were illegally voting in Colorado elections. But a new report from The Grand Junction Daily Sentinel shows that, to date, there have been zero prosecutions of Gessler's suspects.
After originally claiming more than 16,000 non-citizens registered to vote in Colorado in 2011 and that as many as 5,000 of them had actually voted in 2010,, Gessler's office finally released the names of only 155 people who they thought of as suspects. That list was proof, Gessler said, that the Colorado voting system is vulnerable to fraud. So The Daily Sentinel investigated those cases:
A check by The Daily Sentinel with those district attorneys over the past two weeks, however, revealed that none of the referrals led to criminal prosecutions, though some still are under investigation. The analysis also showed that although some of the non-citizen voters did cast ballots in at least one election going as far back as 2004, the preponderance of the other voters actually were citizens who legally had the right to vote.
Many of those people whose citizenship and right to vote were called into question by Gessler were found to be verifiable U.S. citizens, The Associated Press reported. In some counties, like Boulder, of those questioned, only legal U.S. citizens were found.
"Local governments and county clerks do a really good job regulating the integrity of elections, and I'll stand by that record any day of the week," said Stan Garnett (D), Boulder County's district attorney to The Boulder Daily Camera. "We don't need state officials sending us on wild goose chases for political reasons."
In response to the Daily Sentinel report, liberal blog ColoradoPols described Gessler's quest for voter integrity as a "complete failure, a totally unjustified return on Gessler's investment of manpower" and said, three years later with zero prosecutions, "Gessler has no credibility."
In 2011, Gessler found himself in hot water when he instructed county clerks not to mail ballots to registered (but inactive) citizens in their counties. He based his decision on a belief the practice allowed nearly 5,000 non-citizens to vote in Colorado's 2010 election.
While some clerks fell in line and followed Gessler's directive, others didn't -- pointing out that Gessler's orders would prevent legitimate voters from participating, including members of the armed forces who hadn't been around to vote in 2010.
This all triggered a lawsuit, Pueblo County Clerk Bo Ortiz and Denver's Clerk Debra Johnson both ended up on MSNBC's Rachel Maddow Show, and U.S. Representatives Robert Brady (D-Penn.) and Charles Gonzalez (D-Texas) concluded Gessler's orders were "likely to disenfranchise eligible voters and should be condemned." Johnson and Ortiz won the suit and sent ballots to registered-inactive voters, but the larger issue of voter registration remained unsolved.
Gessler's critics have long accused the Secretary of State, who once said a "good election" is when "Republicans win", of "manufacturing a voter fraud scare" for political reasons and going so far as to characterize it as a "witch hunt" that Gessler should be embarrassed by.
But Gessler, who is one of a handful of Republicans running for governor of Colorado against Democratic incumbent Gov. John Hickenlooper, continues to defend his actions saying that his goal has simply been to aggressively protect the state against voter fraud.
BEFORE YOU GO
PHOTO GALLERY
Voting Laws That Make People Angry