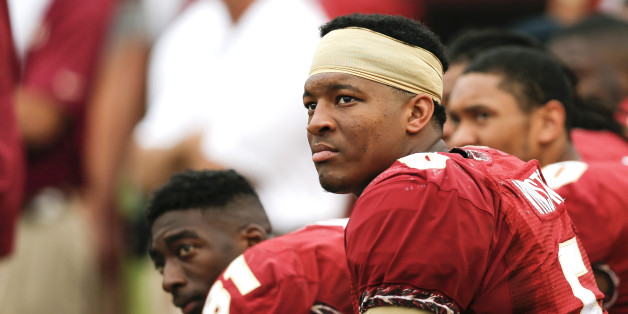 The alleged victim in the sexual assault case involving Florida State quarterback Jameis Winston has claimed in a statement issued to the Tampa Bay Times that a detective warned her against pursuing the case.
"We requested assistance from an attorney friend to interact with law enforcement on the victim's behalf," the alleged victim and her family said in the statement. "When the attorney contacted Detective Angulo immediately after Winston was identified, Detective Angulo told the attorney that Tallahassee was a big football town and the victim needs to think long and hard before proceeding against him because she will be raked over the coals and her life will be made miserable."
Click here to read the full statement.
Winston, a leading candidate for the 2013 Heisman Trophy, is under investigation for an alleged sexual assault that took place in December 2012, as first reported by TMZ.
Shortly after alleged victim's statement was released, a Florida State spokesman told Yahoo! Sports that there will be "no additional statements" in response to the Tampa Bay Times story.
The Associated Press reported last week that Tallahassee prosecutors expect to close the investigation "in a few weeks." The alleged incident involving Winston was first reported nearly a year ago and police didn't turn the case over to prosecutors until last week.
UPDATE: Interim Tallahassee police chief Tom Coe responded to the alleged victim's statement later on Wednesday and did not specifically refute her claims, per David M. Hale of ESPN.com.
"There are many statements being made daily, some of which are factual, some are not factual. We can't go into detail on that tonight, but there will be a point in time when we can comment on those issues," Coe said.