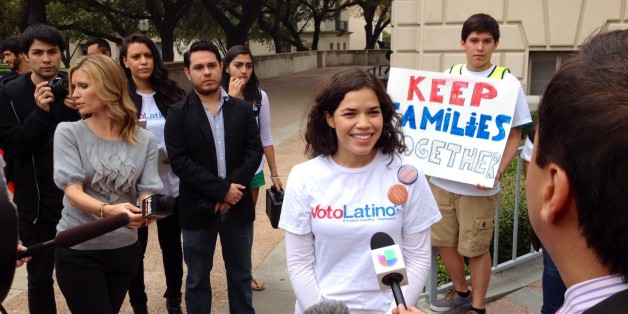 An ill-fated attempt by a conservative student group to mock undocumented immigrants on the University of Texas at Austin campus has backfired.
The Young Conservatives of Texas called off an event called "Catch and Illegal" planned for Wednesday in which participants would have chased down people carrying signs reading "illegal immigrant" and turned them over to the student group in exchange for $25 gift cards.
The backlash against the aborted immigration round up game was so strong, however, that instead U.T.-Austin hosted a pro-immigration reform rally. Some 500 students, including undocumented immigrants, attended the rally against the game at the Texas university, the San Antonio Express-News reports.
Actress America Ferrera, of "Ugly Betty" fame, lent some star power to the event.
W/ hundreds of passionate & inspiring @UTAustin students standing up 4 their undocumented peers & demanding immigrat… http://t.co/i4sD9vAsh5

— America Ferrera (@AmericaFerrera) November 20, 2013
"I was greatly disappointed to learn that a student group on this campus had planned to hold a disturbing and demeaning game based on bigotry and hate," Ferrera said, according to the Express-News.
Ferrera, the child of Honduran immigrants, is a co-chair of Voto Latino's "I'm Ready for Immigration Reform" campaign.
BEFORE YOU GO
PHOTO GALLERY
Dumbest Commentary About Latinos In 2012