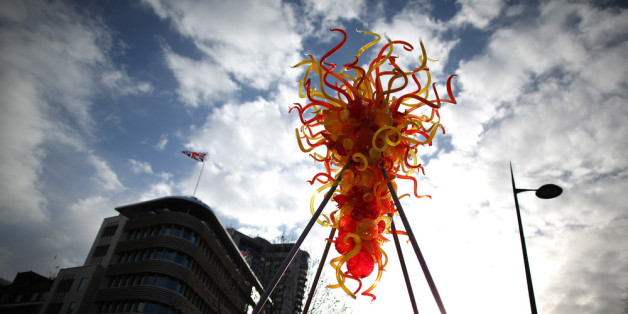 A Seattle man by the name of Michael Little is facing time in federal prison after selling generic glass sculptures as Dale Chihuly artworks, according to the Seattle Post-Intelligencer.
Little bought glass tchotchkes from flea markets and estate sales in and around his home in Renton, Washington, stamping the generic trinkets with Chihuly's false signature and eventually selling them for big bucks on eBay and other online auction houses.
To corroborate his forgeries, Little created fake documents authenticating the works and concocted elaborate stories about how he obtained them. According to FBI statements, he even told one buyer his family had won the lottery. The con artist is now facing up to 15 months in prison.
Before he was caught in April of this year, Little had duped approximately 25 buyers, selling around $128,000 of faux Chihulys. One buyer, who personally procured $35,000 worth of fake glass goods, considered donating the works to the Gonzaga University art museum before finding out they were forged.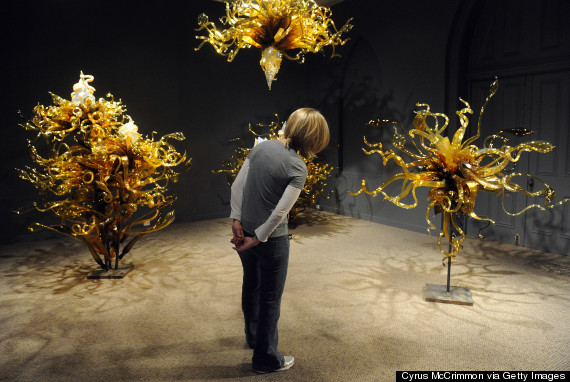 Dale Chihuly glass exhibition at the Foothills Art Center in Golden on Friday, April 6, 2012. (Photo By Cyrus McCrimmon/The Denver Post via Getty Images)
"Michael Little is a masterful liar, cheat, and thief," a victim of Little's deceit told the court during his hearing. "I am so ashamed that I am not sure I can tell everyone what has happened."
Aside from a 15 month sentence, Little is also looking at $75,400 in restitution fees.
The whole ordeal is made additionally confounding given the fact that Chihuly's "originals" are not physically made by Chihuly either. After the artist suffered devastating physical injuries rendering him unable to continue creating his glass art oeuvre, he began employing "artisans" to handle the physical aspects of the art making.
Chihuly's website describes this practice in the most complimentary way possible, explaining: "He operates like the medieval master builder, depending on teams of artisans to realize his overall concept while permitting them liberties of personal interpretation that destroy uniformity and repetition."
While the blame is most definitely on Little in this case, it's nonetheless interesting to point out how many buyers were fooled by commercial goods with a fake signature smacked on them. Little's ability to carry out his forgeries, in our opinion, says something about the authenticity of Chihuly's work as well.
Check out some of Chihuly's authentic works and let us know: Do you think you could distinguish these fine art objects from a mass manufactured glass good? Let us know in the comments.