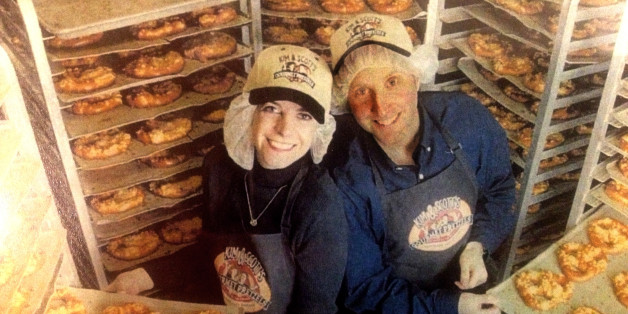 One of the reasons I started my website is that I wanted a place for women to come together and dream. We women need to know that we don't have to hang on to an old dream that has stopped nurturing us -- that there is always time to start a new dream. This week's story is about a couple that wanted to escape their 9-5 desk jobs and pursue something more creative. Together, Kim and Scott Holstein created a gourmet pretzel company that they started out of a tiny rental space in Chicago, which led them to a multi-million dollar deal! -- Marlo, MarloThomas.com
By Lori Weiss
It was a twist of fate that brought Kim Holstein to a bookstore named "Transitions" -- a subject that she'd spent a lot of time thinking about. She'd been working in advertising but was hoping to find a new path. What Kim couldn't have known was that inside that store, she would have a chance meeting which would change the course of her life and career.
"I was working at a big agency in account management," Kim explained. "In advertising, you're either a creative or you're a suit, and I always resented the fact that I had to pick. I was put in a corner and told, 'Be this.' It was killing my creativity and my soul."
"What I really wanted to do was make soft pretzels. I'd read this tiny article about a woman who made pretzels and sold them at a farmers market, and I became obsessed with the idea. It was the early 90's, around the time that bagel shops were beginning to make gourmet bagels and I thought, What if I could add a twist to pretzels by adding chocolate chips?"
But there was one little issue that kept getting in her way -- Kim had absolutely no baking experience. "I loved eating baked goods and coming up with new concoctions, so I thought, How hard could this be? But as it turned out, it wasn't that simple. No matter what I tried, they tasted like cardboard with chocolate chips."
By the time she showed up at the bookstore, Kim had pretty much put her dream on the shelf. But there, among the crowd gathered to hear a well known author speak, she met Scott -- a fellow creative type who spent his days selling insurance. He too was looking for a transition. They quickly became a couple and began sharing their dreams.
"I was talking about the pretzels from the start," Kim said with a smile. "And one day, Scott brought over a piggy bank he'd painted for me. It had a pretzel on it and it said, 'Dreams made upon deposit will come true.' He believed in my dream as much as I did -- and what I really needed was someone to help me bring it to life."
So together, they sought out a chef who taught at a culinary school, and they refined the recipes that had lived in Kim's mind. And while the chocolate chip idea never seemed to hit the spot, they walked away with a new spin on soft pretzels -- Parmesan, apple cinnamon and onion dill.
While Kim continued to toil away at the ad agency so that the couple would have a source of income, Scott rented a small space and a mixer, where he began to make samples that he could bring around to possible customers. Within months, there was enough interest for them to partner with a baker who agreed to turn out their twisty treats.
"Everything was going smoothly," Kim recalled, "until he called us one day and said he was too busy to bake our pretzels for three weeks. We knew we'd lose the accounts we'd built up. And that was the turning point -- where we knew we either had to have the courage to move forward or just stop."
So just months before the couple was about to officially tie their own knot, they leased a 5,000 square foot space in what they refer to as a challenged area of Chicago -- so challenged that people were sleeping under a viaduct nearby. With the help of a high interest credit card and small loans from family and friends, they bought the equipment they needed with the hopes that one day they'd be rolling in the dough.
"I'd go to work and then go to the bakery to work with Scott. While my family was supportive, they really didn't want us to put all our eggs in one basket. My dad would tell me to keep my advertising job -- that I had insurance and stability -- and my heart would just sink. He'd say, 'There's such a risk in leaving.' But I knew there was a bigger risk in not leaving."
By that point, the couple had landed their first big account. The cart operator for McCormick Place, Chicago's convention center, had discovered their pretzels at an art festival and began ordering them by the thousands. And better yet, he paid for them on the spot. The company was growing and Kim knew she had reached a fork in the road -- and it was time to make the transition.
She quit her job and the couple took the next step. They began bringing their pumped-up pretzels to trade shows. "For a company that has a small advertising budget," Kim said, "trade shows are the perfect place to get exposure. We met distributors, brokers, people who had restaurants. And at our very first show, right here in Chicago -- we met a buyer for Barnes & Noble who wanted to put our pretzels in the Starbucks cafes they had in their stores throughout the country."
Once again, a book store would become an important chapter in this couple's sweet story. Within months, Kim and Scott's Gourmet Pretzels became a national food service company.
Article continues below slideshow
PHOTO GALLERY
Kim Holstein
But even "dreams come true" can sometimes take a twisty turn. As the company continued to grow, so did the Holstein family. As Kim was in the hospital about to give birth to the couple's first child, she was doing everything she could to keep customers happy -- even shipping rush deliveries from her bed for a food chain that never seemed to order enough.
"They were a new national account," Kim remembered, "and we were so excited about them, we would have done anything! We even spent time in their bakeries to create a profile that would fit into their stores. But not long after that, we received a RFP (request for proposal). They thought our prices were too high and they wanted us to come down to a point that didn't make sense for us."
"Before we knew it, they had taken the information we'd given them and taught their own bakers how to make our pretzels. We had a choice at that point. Do we sue a big corporation? Or do we move forward? We decided we'd be better off focusing on the future."
As the saying goes, when one door closes, another one opens. And for the Holsteins, it was a really big one. The couple had expanded their product line even further, bringing something brand new to market -- stuffed pretzels. Pretzels loaded with pizza filling, grilled cheese, cheddar jalapeno, even chocolate fudge -- and that's when Sam's Club came calling. Suddenly the checks that were coming in were for hundreds of thousands of dollars.
The couple quickly began outgrowing their space, so they moved their operation to a 39,000 square foot building, where they could continue to expand. Soon they were selling on QVC, running three shifts, and by their 13th year in business, Kim and Scott's Gourmet Pretzels were in 7,000 stores including Whole Foods, Kroger and Walmart.
And that's when they got the biggest call of all. J and J Foods, the pretzel company that supplies many of the airports and ball parks around the company, had been watching their success and decided they wanted a piece of it. Actually, they didn't just want a piece -- they wanted all of it. So they offered the Holsteins a multi-million dollar deal and acquired the company.
"It wasn't an easy decision," Kim said. "But we have three children with college ahead of them. We took the kids to see Madagascar 3 the night we sold the company -- the Disney movie where all the animals want to go back to the zoo in New York City, but they realize that after all the adventures they'd had, it just wasn't home anymore. I remember thinking that I felt exactly the same way. As much as I wanted to go back to all the fun we had, I knew it was time to move on and do something new."
But before they left, they made sure to pack their freezers with their family's all time favorite -- 2000 chocolate pretzels stuffed with a rich brownie filling. All in all, it was a delicious deal.
The couple has already moved on to their next adventure -- The Crave Bar -- an ice cream bar with a twist, of course. The bar is made with premium, all-natural ice cream on a caramel and chocolate covered pretzel stick, dipped in dark chocolate with sea salt pretzels bits.
"It's amazing how you can start with nothing," Kim said softy, "and build something that can pave the way for your life. I can't imagine where I'd be right now if I'd stayed in that cube at the ad agency. Now I can wear any hat I want on any day. And right now, my role is Chief Chocolate Officer. It doesn't get much sweeter than that."
Add Marlo On Facebook:
Follow Marlo on Twitter:
Sign up to receive my email newsletter each week - It will keep you up-to-date on upcoming articles, Mondays with Marlo guests, videos, and more!