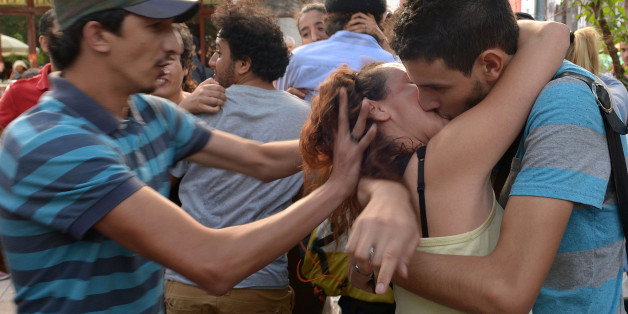 "A kiss is not a crime," hacktivist organization Anonymous tweeted Wednesday, in an effort to grab the Moroccan government's attention before a hearing for three teens arrested over a Facebook photo on Oct. 3.
The group led the online protest using the hashtag #NadorKiss to demand the exoneration of the teenagers, who were charged with public indecency after posting a photo featuring two of the teens kissing outside a school. The other teen was arrested for snapping the picture.
The teens, all from the city of Nador, are due in court Friday for a closed hearing, followed by a sentencing next week, according the Agence France-Presse.
The charge carries a possible prison sentence of five years.
"Their sentence will be educational at most, in my opinion," Mohamed Abdennabaoui, the criminal affairs and pardons director at Morocco's Justice Ministry, told Al Jazeera.
THIS is the kiss..THIS is what the Gov feels is destroying the Nat'l order and social harmony of Morocco
#NadorKiss pic.twitter.com/FqUaS0GJfj

— Ξ Bouka Ξ (@bOuka_AnOn) November 21, 2013
A Moroccan nongovernmental organization originally filed the lawsuit early last month, claiming the photos had a negative effect on society and upset people's feelings, the AFP reported.
On Oct. 12, two dozen demonstrators staged a kiss-in to defend the right to public displays of affection in Morocco's conservative Muslim society and to show solidarity with the teens being charged.
As the Nador teens' trial date quickly approaches, Anonymous continues its quest to stop prosecution. The group released the following statement in a press release:
This is yet another example of a government taking something that wouldn't normally have been a major issue but by removing it from the usual framework it would be viewed within simply because of the "online" aspect, it is made into a "problem."