It appears that cable news networks have very different ideas about what topics are most important for their viewers.
If you've been following the news on any medium over the past few weeks you are well aware that the two stories dominating the media have been the Obamacare rollout and Typhoon Haiyan in the Philippines. And while we all know that cable news networks each have their own ideologies and political affiliations, a new study by Pew Research Center shows that they also differ greatly in which of these two stories they cared more about.
In an analysis of 80 hours of television taken from November 11th to November 15th in 2013, Pew found that Al Jazeera America and CNN dedicated significantly more hours to covering the storm tragedy than Fox News or MSNBC, which focused almost entirely on Obamacare.
Here's the breakdown: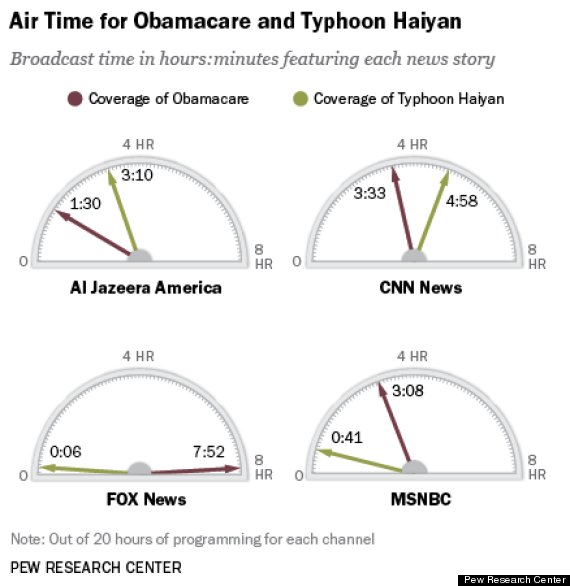 Apparently, Fox News cared way more about Obamacare than it did about the typhoon aftermath. The conservative network spent nearly eight hours on the failure of Obamacare and a mere six minutes on the struggle in the Philippines--focusing close to 80 times more of its attention on the health insurance plan than Typhoon Haiyan.
MSNBC prioritized Obamacare coverage four times more than the typhoon.
Of all the networks, CNN struck the closest balance with about three and a half hours on Obamacare versus about five hours on the storm.

BEFORE YOU GO
PHOTO GALLERY
Media coverage of Obama's gay marriage announcement